Hey there my fellow foodies! Tonight I'm bringing you my latest menu and grocery list! I compile them from recipes that I've posted; this one happens to be made up from the most recent recipes added to the site.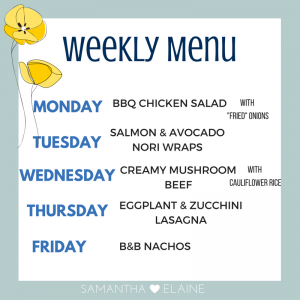 You can find links to all the recipes featured in the menu here:
BBQ Chicken Salad with "Fried" Onions
Creamy Mushroom Beef with Cauliflower Rice
Eggplant & Zucchini Lasagna with Crunchy Quinoa
I do all of this to make your week just a little bit easier! I want to take all of the guesswork out of dinner for you, so please consider this your one-stop resource. The entire work week has been planned out: the grocery list for those dinners is compiled with enough to feed 4 (or 2 with enough leftovers for lunches-WIN!), and all of the recipes on that menu are right HERE! You don't have to go to hunt them down!
Here's the grocery list for the week: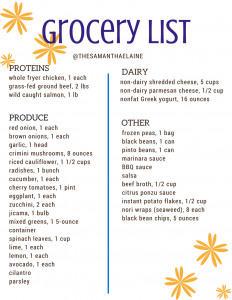 Download your printable grocery list here!
Download your printable menu here!
I've also been doing some thinking, and I would really love to start incorporating some more tutorials, how-to's, and other things. What do you think? I would love to hear your feedback!
Comments, questions, concerns? Leave them in the comments below or contact directly at me@samanthaelaine.net.
Like it? Love it? Share it!