Hey there! I'm bringing you another lower-carb pasta alternative today, and this one is SO STINKIN GOOD. You know why? Because there's CHEESE!
It's something that I don't honestly use a lot of. You may find it here and there in recipes, but we became so accustomed to a dairy-free diet after both my fiance and I discovered we were lactose-intolerant. Then, we started experimenting with some of the lactose-free cheeses that are out there, and we discovered some of them weren't so bad! We love almond cheese and the Go Veggie cheese brand. And recently, we found out that Go Veggie makes parmesan! YASSSSS. So that's why we've been on an Italian kick.
The downside to Italian is that it's traditionally a lot of pasta, which isn't something we generally eat of a lot of. Instead, I love to use hearty vegetables in place of the pasta, as you may have noticed in my recipe for Turkey Meatballs with Zucchini Noodles.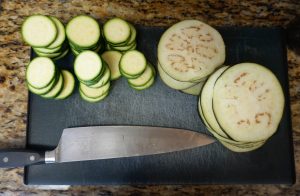 In this recipe, we use sliced eggplant and zucchini in place of lasagna noodles. They are both sturdy enough even when cooked to hold up in a lasagna, just keep them about 1/4 inch thick.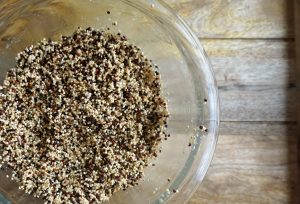 Now even without the pasta, this recipe still has carbs, because despite what you may hear out there, they are still good for you! It's just that you want to exercise moderation. By cutting out the noodles, we can add a crunchy quinoa topping. By the way, did you know that quinoa is one of the few plant sources of protein that contain ALL of your essential amino acids? Now you do!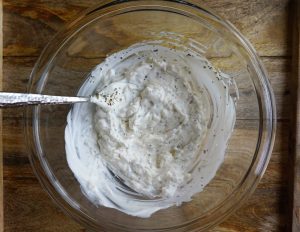 Coming back to the dairy here, I mentioned that we use cheese alternatives-mainly vegan cheese. But this is to reduce the lactose in our diet, not because we're anti-dairy. As proof, we use a lot of Greek yogurt, which is naturally lower in lactose and does not upset our stomachs. If you are vegan or completely dairy-free for any other reason, just use your favorite vegan yogurt, like coconut or almond.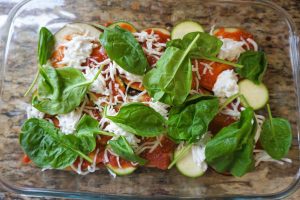 To make this lasagna, it's all about those layers. Start by spreading out a small amount of marinara sauce on the bottom of a baking dish. Spread out eggplant and zucchini, and top with more marinara. Top with yogurt and cheese mixture, which will be easiest to do by dropping small dollops around. Sprinkle with mozzarella, and top with spinach. Repeat this entire process one more time!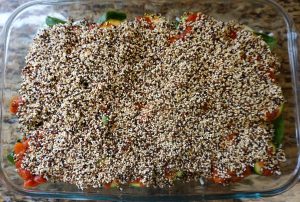 Finish the top with the remaining eggplant and zucchini, a final layer of marinara, and the quinoa topping.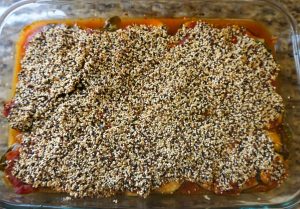 Let it cook for about 45-50 minutes in a 35o degree oven. It should be slightly brown on top, and the sauce should be bubbling well. And that's it! DIG IN!!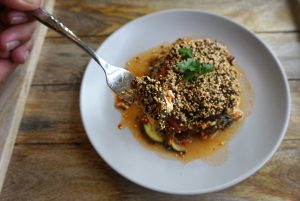 Print
Eggplant Lasagna with Crunchy Quinoa
A delicious new take on a veggie lasagna. Instead of using noodles, this recipe uses sliced eggplant and zucchini. But the twist? A cheesy, crunchy quinoa topping!
Author:
Prep Time:

20

Cook Time:

45

Total Time:

1 hour 5 minutes

Yield:

6

servings

1

x
1 cup

dry quinoa

½ cup

grated parmesan cheese *

2 tbsp

butter, melted *

1 cup

nonfat Greek yogurt *

2 cups

shredded mozzarella cheese, divided *

1 tsp

dried oregano

½ tsp

dried basil

1

jar marinara sauce

1

eggplant, cut into

¼

inch thick slices

2

zucchini, cut into

¼

inch thick slices

1 cup

baby spinach leaves
Parsley, for garnish
Instructions
Preheat oven to 350. In a small bowl, stir together quinoa and parmesan. Pour melted
butter over mixture and combine well. In another bowl, mix together Greek yogurt, 1
cup cheese, oregano, and basil. Set aside.
In a baking dish, pour in a small amount of the marinara sauce and spread to coat the
bottom. Use about 1/3 of the eggplant and zucchini and make the bottom layer. Top
with 1/3 of the marinara sauce. Dollop half of the yogurt and cheese mixture on top of
that. Spread out ½ cup of the shredded mozzarella cheese. Cover with ½ cup spinach
leaves. Repeat entire step for another layer of everything.
To finish the dish, top with the last of the eggplant and zucchini. Spread remaining
marinara. Top with the quinoa and parmesan mixture. Bake uncovered in the oven
about 45-50 minutes, letting it get brown and bubbly. Garnish with parsley, if desired.
Notes
*To make this dish dairy-free, use vegan parmesan, butter, yogurt, and cheese.
I hope you enjoyed this one as much as I do! Comments, questions, concerns? Leave them in the comments below or contact directly at me@samanthaelaine.net.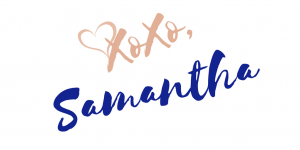 Like it? Love it? Share it!