About
Hey there!
I'm Samantha, but my friends call me Sam. I'm a certified health coach / lifestyle and food blogger in beautiful Oceanside, CA.
What started as a way to share recipes with family has blossomed into so much more. My biggest focus is to provide recipes that will help get a delicious, nutritious meal on the table. Something that your whole family will enjoy!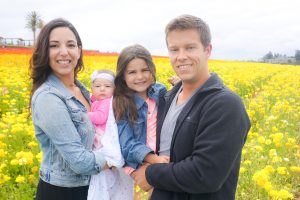 Once a week, I try to post a new recipe, health, fitness, or lifestyle tip. I say try, because sometimes life gets in the way when you're a rambunctious family of four! I'm lucky that I get to share my journey with my incredible husband Zach and our two adorable daughters Charlotte and Evalina. My goal is to provide inspiration to others and let you know that you can live a healthy, happy life amidst all the chaos.
So where do the recipes come from you might ask?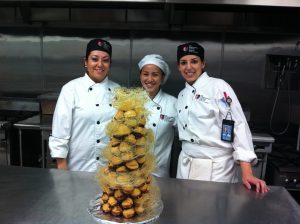 I write my own of course! My cooking skills developed while attending culinary school and working in restaurants right out of college. I could tell right away though that it wasn't the right fit; I didn't like that I was contributing to poor health with the over-sized portions and incredibly decadent desserts. When I decided that the kitchen life just wasn't for me, I was still drawn to food, but I was more interested in how it is utilized in the body to sustain us.
So, I went back to school and obtained my Bachelor's Degree in Nutrition Science. My desire was to find a way to combine my two degrees in a way that I could help people, and after a lot of searching, I decided to be the master of my own destiny.
I created this blog to share my passion for food and health. I LOVE cooking, but I also love teaching and inspiring others. My desire is to help you lead a healthier life and to be more involved with their own nutrition and lifestyle choices. That's why I became a coach, so I can be directly involved in impacting the health of others.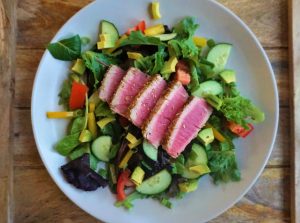 Now I'm not saying you can't ever go out and enjoy a burger and fries. Don't get me wrong, I love that too! I want to encourage you to get in the kitchen more, to learn what other foods you like and how to prepare them, and to explore new flavors! Healthy food does not equal boring, trust me. Just take my Sesame-Crusted Seared Ahi Salad for example!
It's all about balance my friends. It's about creating a sustainable lifestyle that you can be happy with. Enjoying mostly healthy foods, exercising frequently, and having those few occasional splurges in moderation. Because I can't imagine life without wine.