Ok, so right now I'm making a lot of salads. Honestly, sometimes it's just too hot for anything else! You will probably see at least one a week for the remainder of the summer, just so I have something light and refreshing on the menu. But that doesn't mean it's lacking on flavor!
For this BBQ salad, I want you to start with finding your favorite BBQ sauce. Do you like sweet and tangy? Robust? Maybe a little spicy? Whatever makes you happy, go with that! For ours, we chose Kansas City style- it has a bold, smoky flavor and we happened to pick ours up at Trader Joe's.
For more info on that BBQ sauce, check out an article they posted here.
I want you to make sure that you love your BBQ sauce because it will be the only dressing that you will use on your salad! I know that traditionally a BBQ salad is also dressed with ranch, but doing it my way dramatically reduces the overall calorie and fat content, and in my opinion, doesn't sacrifice a thing.
We're also going to make our own "fried" onions. Even though these delicious, crispy shoestring onions taste sinful, they're actually baked in the oven! You'll want to pay close attention to them once you put them in the oven to prevent burning. Set a timer to go off every 5 minutes and stir them up completely.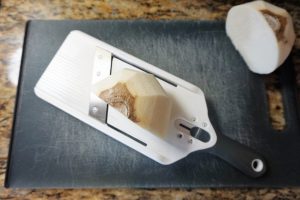 Really the only other prep for this recipe involves cutting up your jicama if you purchased the root veggie whole, like I did. You can also buy it already in matchsticks or maybe even diced. To DIY, start by peeling your jicama with a vegetable peeler or a knife, if you're comfortable with that method. Cut your jicama root in half in order to process it on the mandolin, if using.
Use the thickest setting and create uniform slices. If you don't have a mandolin, slice your jicama into 1/4 inch thick slices using a knife. Then, slice into matchsticks, as shown above. They don't have to be perfect; that is up to you!
For the chicken breast, try making my Slow Cooker Roast Chicken!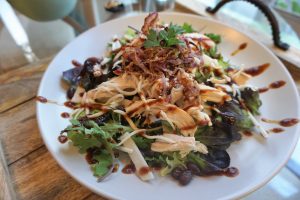 Then, assemble your salads, and drizzle your BBQ sauce over the top. Super easy and a lot slimmer than a traditional BBQ salad you might get at a restaurant!
Print
BBQ Chicken Salad with "Fried" Onions
Smoky BBQ sauce on top of roasted chicken, jicama, black beans, cheese, and faux fried onions- the coolest way to enjoy BBQ this summer!
Author:
Prep Time:

10 minutes

Cook Time:

20 min

Total Time:

30 minutes

Yield:

4

servings

1

x
1

red onion, sliced into thin rings

¼ cup

dry instant potato flakes

¼ cup

all-purpose flour*
Grapeseed oil spray

8 cups

mixed greens

1 cup

shredded mozzarella cheese**

2 cups

shredded, cooked chicken breast

1 cup

jicama sticks

1 cup

canned black beans, drained and rinsed
Your favorite BBQ sauce
Cilantro, for garnish
Instructions
Preheat oven to 450. In a bowl, toss onion rings with potato flakes and flour. Season
with salt and pepper. Line a baking sheet with foil and spray with grapeseed oil. Spread
onions out on baking sheet. Bake for about 20 minutes, stirring every 5 minutes so the
onions do not burn.
To build salads, toss together mixed greens, shredded chicken, shredded cheese, jicama
sticks, and black beans. Drizzle with BBQ sauce and top with "fried" onions. Garnish with
cilantro.
Notes
*To make this dish gluten-free, use gluten-free flour.
**To make this dish lactose-free, use almond or other dairy-free cheese.
I hope you enjoyed this one as much as I do! Comments, questions, concerns? Leave them in the comments below or contact directly at me@samanthaelaine.net.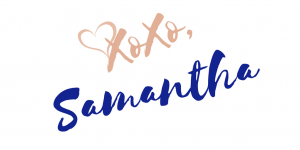 Like it? Love it? Share it!