Ok, so I keep mentioning on Instagram how OBSESSED I am with my new Instant Pot, but I haven't released a recipe for it yet! And honestly, that's just silly, because I use the damn thing at least once a week. Well the wait is finally over my friends!! And I'm kicking off my Instant Pot craze with the easiest, most versatile, and dare I say the BEST Instant Pot Chicken breast recipe out there!
Not following me on Insta yet? Check me out @thesamanthaelaine to see more recipe ideas, photos of the family, and inspirational quotes!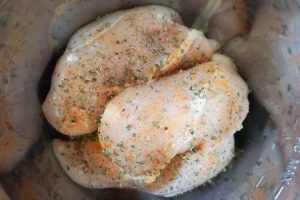 Are you wondering what I'm even talking about with this "Instant Pot"? I mean, seriously, do you live under a rock?
Kidding…. sort of.
It's the hottest thing since sliced bread. Hell, yours could even make bread! It's that cool! This fancy gizmo is a pressure cooker/rice maker/slow cooker/yogurt maker/egg cooker/cake baker/everything maker. The function I use the most though is the pressure cooker, which basically means that it can cook things similar to a slow cooker in a fraction of the time. You want to make perfect, easily shredded, juicy chicken? Instead of 8 hours, try only 30 minutes! BAM!!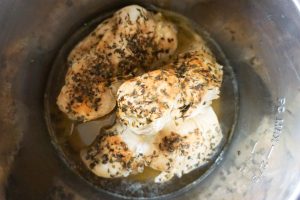 We honestly have been using this recipe almost every week lately, because:
Its cheap
It's versatile
It makes a TON
and it's a great lean protein option!
I mean we also just had a baby, so all of these things are MORE important than ever. Babies are expensive, let me tell ya!! And this momma is determined to get back to her pre-baby weight here in the next few weeks.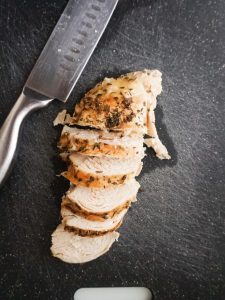 Print
The Best Instant Pot Chicken
Make perfect, easily shredded, juicy chicken in only 30 minutes!
Author:
Total Time:

30 minutes

Method:

Pressure Cook
2-4 lbs chicken breast
2 tsp dried oregano
1 tsp paprika
1/2 tsp seasoning salt
Instructions
Place your chicken breasts in the bottom of your Instant Pot or other electric pressure cooker. Sprinkle seasonings evenly over the top. Lock the lid and make sure the valve is set to "sealing" instead of "venting".
Set it to cook for 10 minutes. (It does take about 10 minutes to reach pressure before it starts cooking). After it's finished, do a 10 minute "natural pressure release". Let it naturally release for 10 minutes, and then do a quick release.
Notes
You can use fresh or frozen chicken breasts. It doesn't affect the cooking time, but it may take more time to come to pressure.
You can change up the seasonings depending on what you're making? Thinking of using this chicken recipe for tacos? Try adding cumin and chili powder!
I hope you enjoyed this one as much as I do! Comments, questions, concerns? Leave them in the comments below or contact directly at me@samanthaelaine.net.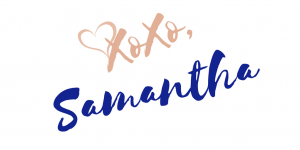 Like it? Love it? Share it!