This was a sad week for any Game of Thrones fans out there. My Sunday felt just a little bit more empty now that the season is over. But c'mon, that was a pretty good finale last week! We even had to go back to our room in VEGAS and watch the finale because we were too excited about it. That's commitment right there.
On another note, happy 4th of July to all my fellow Americans out there! I hope you're off enjoying some sun and some great BBQ! Did you by any chance grill some chicken and need a good way to use those leftovers? I know after overindulging at a summer party, I always crave a salad. So I thought I would post a lovely little Greek salad recipe complete with a quick, homemade dressing! YES!
I also did a quick little demo of two ways to do thinly sliced onions, so we'll start there with our prep information. The method you use really just depends on how thin you like your onions, your skill, and of course, the tools you have available.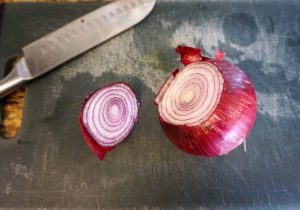 Both methods start out the same. Cut the end off your onion and toss it.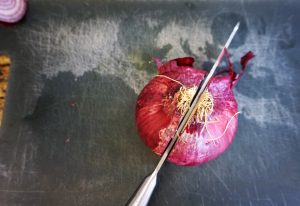 Then, through the root end, slice the onion in half.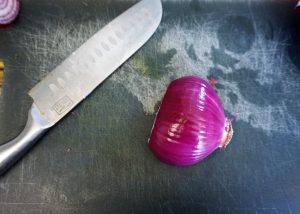 Peel off the papery layers until your left with bright, shiny onion.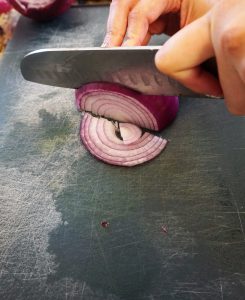 Then this is where you'll find that your method varies. If you prefer your onions a little thicker, use the chef's knife method. Just lay your onion cut side down on the cutting board, and slice.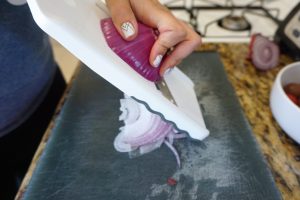 If you like them really thin, you could still use your knife, it would just take some skill to get them very thin and uniform. Alternatively, you could use a mandolin, and just run your onion down it until it is all sliced.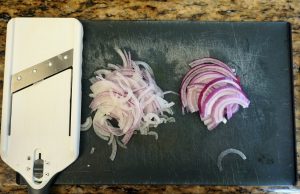 Here's a picture of how my onions compared. My fiance enjoys them really thin (while I enjoy them somewhere that isn't on my plate at all) so that's what we went with!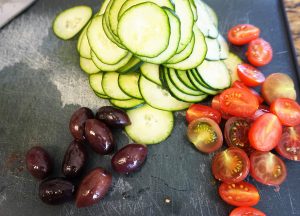 Then using your mandolin or your knife, thinly slice your cucumbers. You'll also need to halve your cherry tomatoes, but the olives I leave whole because I think it's a pain to pit them.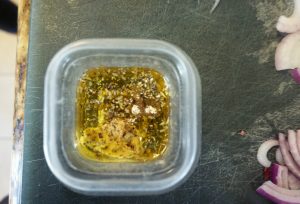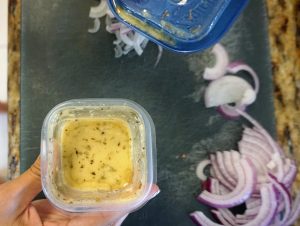 To make the dressing, I simply add all of the ingredients for it into a small tupperware container. I top it with a lid, and shake it vigorously until it is well emulsified. Pretty simple right?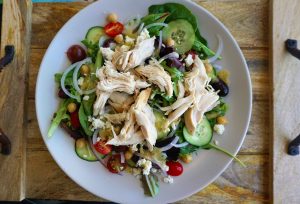 The last part of the prep is easy if you grilled chicken in advance or made my Slow Cooker Roast Chicken!