Do you find a dish like this a little intimidating? I used to! But I'm going to teach you how to do it so simple, a monkey could do it. Ok, I might have taken that too far, but I'm here help you learn to make this incredibly light and healthy dish at home!
Ok, so first you need to get all of your vegetables ready. Do you know how to julienne cut? It's actually pretty simple, and I'll do a demo about it soon! Basically you want to cut your bell pepper into thin strips, and cut those strips in half so that they are about 2 inches long. You also need to chop up your roma tomatoes; you could make these into larger wedges if you like but I cut those wedges into fourths so they were easier to eat! Dice up an avocado as well, and lastly get your cucumber sliced. Cut the whole thing in half lengthwise first, then thinly slice it.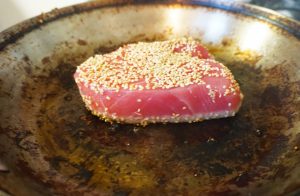 Excuse my pan here. She's old and has seen a lot of love in her day.
To make your seared ahi, start by patting it dry with a paper towel. This will help it get a better sear. Then spray it generously with coconut or grapeseed oil spray. Pat sesame seeds onto both sides; the oil should help them stick.
Then heat your peanut oil in a pan. You'll want your heat pretty high-enough to sear it without cooking it through, but not so high that it burns your sesame seeds. A nice medium high heat should do.
How thick your steaks are will determine how long they will need to sear, as well as how comfortable you are with undercooked tuna. That's why you need to make sure that you buy sushi-grade ahi; it has been taken care of to avoid contamination. And trust me, you want to leave this pretty rare inside. That's what makes it taste SO GOOD. You wouldn't want your sushi cooked would you?
After your oil is heated, add your tuna to the pan and let it sear for about 3-4 minutes on the first side. Then flip it and let it sear an additional 2-3 minutes. That's it!! You've done it!!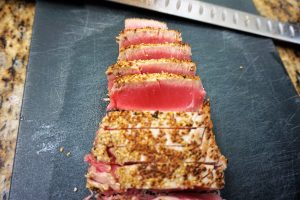 Let it rest on your cutting board for a few minutes before you slice it. Then let it rest on top of your salad, snap of a photo of your beautiful creation (and tag me on instagram @thesamanthaelaine) and show the world what a great chef you are!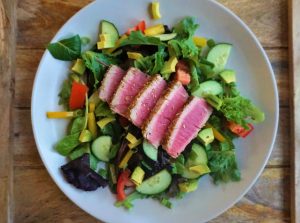 Check out the recipe for this dish below. For the dressing, I used Annie's Sesame Dressing, but a really good ginger dressing would taste FANTASTIC. Let me know what you use in the comments below!
Print
Sesame-Crusted Seared Ahi Salad
Learn how to properly sear your ahi steak and serve it on a bed of greens. This low-carb salad is sure to spice up your next dinner!
Author:
Prep Time:

10 minutes

Cook Time:

10 minutes

Total Time:

20 minutes

Yield:

4

servings

1

x
Category:

Salad
1 ½

lbs sushi-grade ahi tuna
Coconut oil spray

¼ cup

sesame seeds

2 tbsp

peanut oil

1

bell pepper, julienned

2

green onions, thinly sliced

2

roma tomatoes, chopped

1

cucumber, cut in half and sliced

1

avocado, diced

8 cups

mixed greens
Your favorite Asian dressing: ginger or sesame taste great! *
Instructions
Coat tuna on both sides with coconut oil spray. Sprinkle one side of tuna steaks with sesame seeds and pat them in; repeat on other side.
Heat peanut oil in a sauté pan over medium high heat. Add tuna and sear for about 3-4 minutes. Flip over and let sear an additional 2-3 minutes, or until you have an even sear on both sides.
Remove tuna from heat and place on a cutting board. Let rest a few minutes and then slice.
Top mixed greens with bell pepper, green onions, tomatoes, cucumber, and avocado. Toss with dressing. Lay sliced ahi over the top and sprinkle with additional sesame seeds if desired.
Notes
*To make this dish gluten-free, use gluten-free salad dressing.
I hope you enjoyed this one as much as I do! Comments, questions, concerns? Leave them in the comments below or contact directly at me@samanthaelaine.net.
Like it? Love it? Share it!