DIY sushi? Well, it's pretty close! Salmon, avocado, brown rice, vegetables, and nori come together beautifully to make this cross between a hand roll and a sushi burrito. And it's not that difficult to make!
Ok, so first you want to cook your salmon. I know you may be thinking, "HEY! My sushi is usually raw!" Unless you completely trust your fish retailer and it is designated as "sushi-grade" salmon, it's safer to cook it. You don't want to take the risk, trust me! You can grill it, steam it, or bake it, which I've outlined in the recipe below. I seasoned my fillets with salt and pepper, but you could use something spicier if you want a kick! Think sriracha or red pepper flakes.
Once your salmon is fully cooked, shred it with a fork and set aside. (You could also buy pre-cooked salmon if you wanted to avoid this step.)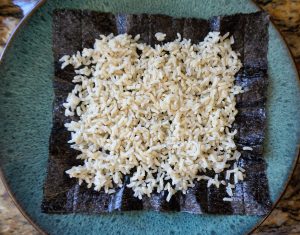 Next, I want to show you how to make the wraps. This part is fun, and definitely versatile! Start by spreading cooked brown rice out on top of a sheet of nori, which is a type of seaweed.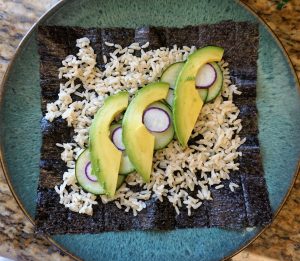 Now top the rice with your vegetables. Not a fan of radishes? Try carrot or bell pepper instead! Be creative and try different combinations of your favorite vegetables.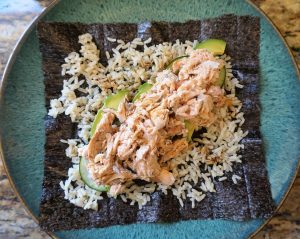 Top with salmon, and drizzle with tamari and ponzu sauces. This helps to get the nori to stick to itself when you begin to wrap it up. Start by tucking the ends in that are closest to your diagonal line of filling. Then wrap the other sides around the filling, making a "burrito".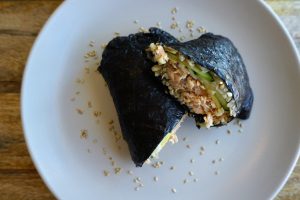 Cut the roll in half and serve with additional sauce, if desired. You have made homemade sushi my friend. Congratulations!
Print
Salmon & Avocado Nori Wraps
Easy, DIY sushi that is quick to prepare! Delicious, cooked salmon, brown rice, avocado, radishes, and cucumbers make this taste AMAZING!
Author:
Yield:

8

wraps

1

x
Category:

Lunch, Dinner
grapeseed oil spray

1

lb wild caught Atlantic salmon
salt and pepper

8

large nori (seaweed) sheets

2 cups

cooked brown rice

1

cucumber, thinly sliced

8

radishes, thinly sliced

1

avocado, thinly sliced

4 tsp

tamari sauce*, divided, plus more for dipping

4 tsp

citrus ponzu sauce, divided, plus more for dipping
Instructions
Preheat oven to 350 degrees. Line a baking sheet with foil and coat with grapeseed oil spray. Place salmon fillets on the sheet and season with salt and pepper. Bake about 10-15 minutes, until cooked through. Flake with a fork and set aside.
To assemble the wraps, place a sheet of nori on a surface. Spread out 1/4 cup rice in a thin layer on top of the nori, leaving a 1/2 inch border around the edges clean. Top with cucumber, radish, and avocado sliced diagonally across the rice. Place flaked salmon atop the vegetables. Drizzle with tamari and ponzu sauces, about 1/2 tsp each. Tuck in the corners that are closest to the diagonal first, and then roll like a burrito to make wrap.
Slice in half and serve with additional tamari and ponzu, if desired.
Notes
*If gluten-free, use a gluten-free ponzu sauce.
Tamari is naturally gluten-free. You can use regular soy sauce if you do not have this dietary restriction.
I hope you enjoyed this one as much as I do! Comments, questions, concerns? Leave them in the comments below or contact directly at me@samanthaelaine.net.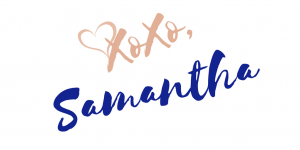 Like it? Love it? Share it!