I've been going back and updating old posts lately, and let me tell you- that is way more work than I anticipated (check out the updated About Me page!). I want older recipes to use the new recipe format, and the nutrition labels. It's still a work in progress, but I noticed something…I haven't had a new menu and grocery list since October.
Whaaaaaat? This year has flown by! We had the holidays, Zach and I got married, our honeymoon, more holidays; sometimes I just can't keep up with the chaos! I also recently hit my one year anniversary with the blog, and I can't even begin to tell you how much I've learned. Not just about the process of running a blog, but about myself, my hopes, my dreams, and more. What started out as a hobby and a way to share recipes with my family has turned into a passion. And trust me, I'm only getting started.
But back to the menu and grocery list. This one combines some of my new summer favorites, and I hope they are yours too! Let's take a quick look at the recipes that will be featured.
This week's menu: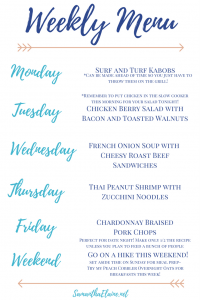 get your printable weekly menu here!
And here are the recipes!
Surf and Turf Kabobs – Fire up your grill and get ready! This recipe pairs classic steak and shrimp kabobs with foil packs of sweet potatoes cooked right on the grill. Lighten it up with a fresh spinach salad on the side.
Chicken Berry Salad with Bacon and Toasted Walnuts – My new go-to summer salad! I love pairing the sweetness of the berries with savory flavors like bacon, blue cheese, and walnuts. I highly suggest cooking your chicken breast ahead of time. Try it my way and add the breasts to your slow-cooker in the morning (no liquid required!), let them cook on low for 8 hours, and voila! Ready-to-go, easy-to-shred chicken breast.
French Onion Soup with Cheesy Roast Beef Sandwiches – They're warm, cheesy, and so delicious. It's nice to have something hearty, even when it's warm out!
Thai Peanut Shrimp Zucchini Noodles – This one is so quick and PACKED with a rainbow of veggies (red pepper, carrots, zucchini, green onions, and purple cabbage).  So much flavor and so good for you!
Chardonnay Braised Pork Chops – This one has easily become one of my fan favorites, and it's dedicated to my sister Sara. She made something similar for us one evening, and we fell in love with it. I suggested making only half the recipe in my menu because the recipe does serve 8. But if you're like me, you can make the full batch and have plenty for leftovers!
*The full batch is not reflected on the grocery list.
Extra recipe – Peach Cobbler Overnight Oats – Make these ahead of time this weekend to have for breakfast during the week! The ingredients have not been added to the grocery list.
And of course I have provided the grocery list to accompany this week's dinner menu. I strive to make your life a little bit more simple!
The grocery list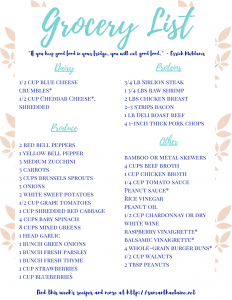 get your printable grocery list here!
One thing I always want to remind you about: you may notice that a few items from the recipes are missing from your grocery list. There's a good reason for that! I actually created a list a looooooong time ago that reflects what I find to be those "pantry staples". The things you should always have on hand and probably don't need to buy every time you go to the store. Just replenish them when you are running low. Here's the list again in case it's been awhile (notice that it has a fresh new look!):
Staple items for your pantry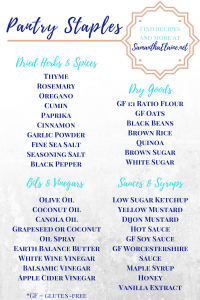 get your printable pantry staples list here!
Are you struggling to find an ingredient on either list, or don't know what the hell it is? Ask me! I would be happy to help you hunt it down, or at least give you some pointers. And if you need to find a substitution, you can always shoot me an email at me@samanthaelaine.net and I'll help you come up with something.
I hope that you enjoyed this menu and grocery list as much as I do! Comments, questions, concerns? Leave them in the comments below or contact directly at me@samanthaelaine.net.
Like it? Love it? Share it!