Download your printable menu here!
Did you miss me? I had kind of a crazy week with my daughter's 3rd birthday party, but boy did she love it! Balloons, bubbles, swimming pool, CAKE, what more could a toddler ask for? Anyways, it also gave me a few days to develop some content! Expect more coming soon!
For now, I have your new weekly menu and grocery list! Doesn't everything sound amazing? I know my mouth is watering just thinking about it! Here's a little breakdown of what's to come:
The recipes this week:
Monday: The burgers are quick and painless! Buy mahi-mahi patties that are already prepared for you in the frozen section of your local Trader Joe's, or find something similar at your regular grocer! Fish fillets are ok too! And for the side, we'll start with a packaged slaw mix and really jazz it up!
Tuesday: This is by my fiance's request. He's been DYING for us to do a steak again. And this one is KILLER. There's an awesome little surprise in store! Hint: if you're a blue cheese fan, you should probably pick some up.
Wednesday: #CrockpotWednesday! The chicken breasts are slow-cooked in salsa, and then shredded and used to make tacos! Buy all your favorite toppings; I included Greek yogurt, salsa, mixed greens, cheese, & cilantro.
Thursday: a summer favorite! Adding fresh fruit to salad really brings ties in those sweet flavors. We'll top the salad with some cucumber and red onion, plus some grilled chicken!
Friday: we'll finish out the week with our vegetarian dish, miso soup. It's made extra hearty with mushrooms and edamame. If you want to kick up the Asian flare, try using shiitake mushrooms!
And then the weekend is up to you folks! Usually we use the leftovers from the week, and take one night to go out. But you can also get creative in the kitchen! Try checking out some of my previous recipes for ideas.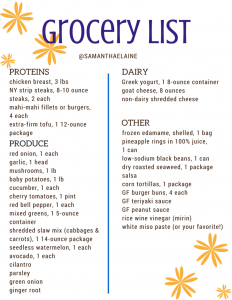 Download your printable grocery list here!
Tips:
If you've been following along with my grocery lists, there may be some items that you don't need. For example, you might be stocked up on teriyaki sauce, peanut sauce, and rice wine vinegar. I also like to buy some items in bulk, like burger buns. I'll store whatever I don't use that week in the freezer.
FUN FACT: I also store my ginger root in the freezer! When ready to use, I simply grate it on a fine grater to add to any dish! You could also use powdered ginger if that all just seems like too much of a hassle.
I think the most difficult item to find this week might be the miso paste. Try looking in the Asian section of your local grocery store. I usually buy mine in a tub in the refrigerated section at Sprouts, by the vegan items (like tofu!).
If there's any item that you're unsure about, don't hesitate to ask in the comments! I'm prompt on my responses. Also, if there's something that you would like to see on the next menu, I would love your feedback!
Cheers to a wonderful week & Happy Father's Day this Sunday to all you Dad's out there!