Ok so I know that zucchini noodles are "all the rage" right now, and they should be! They are AWESOME! Even my toddler loves them, especially when I use them to make Turkey Meatballs and Zucchini Noodles.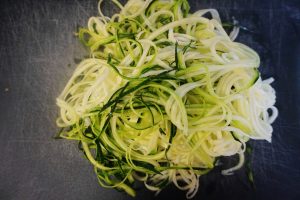 So why do I love zucchini noodles so much?
They are:
Easy to make if you have the right tool- a spiralizer.
A great low-carbohydrate alternative to pasta.
Naturally gluten-free.
Help incorporate more veggies into your diet! #winning!
So in this recipe, we're using them to make a classic "spaghetti and meatballs", except with a much healthier substitute for the pasta!
Let's make some meatballs.
First, let's talk about the prep for this one. The meatballs can be made in advance, and even stored in the freezer if you want to make a large batch and portion it out. Otherwise, it all has to be done on the spot. Don't worry, it doesn't require too much hands on time.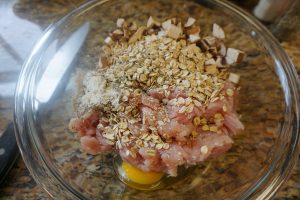 So let's make some meatballs! Start by combining all of the meatball ingredients (turkey, oats, mushrooms, egg, Worcestershire, and seasonings) in a large bowl. Now you're going to get your hands dirty on this one. I'm going to make you step outside of your clean, comfort zone. PLEASE wash your hands first!
Really dig your hands into the meat mixture, and knead it until the ingredients are mixed well. This should only take a minute or so. When it looks well mixed, start portioning it out. I used a small scoop but you could also just use a spoon and try to make them all about the same 1 1/2 inch size. Round them out (like you're playing with play-doh) into balls and line them up on a foiled and sprayed baking sheet.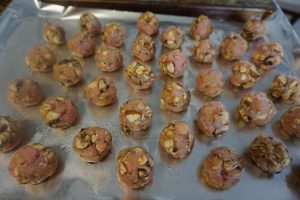 Bake the meatballs in the oven for about 20 minutes, or until cooked through on the inside. NO PINK! If you want them to get a little browned on top, place them under the broiler on high for about 5 minutes.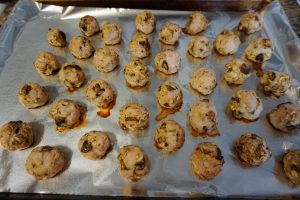 And the pasta.
While those puppies are in the oven, get everything else ready. I used this time to spiralize my zucchini noodles. I also set my marinara sauce on the stove in a small saucepan and let it start heating on low.
*Side Note: When choosing your marinara, ALWAYS read your labels. You want one that doesn't contain any unnecessary ingredients, like sugar. It should be made up of tomatoes, onions, basil, garlic, olive oil, seasonings, and that's about it!
When you're ready to cook your noodles, heat the olive oil over medium heat. Add the zucchini and continuously stir or flip around if you're a really cool chef. It should only take about 3-4 minutes before they soften.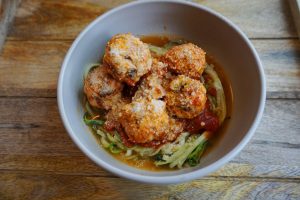 To finish it, toss your meatballs with the marinara. Use this to top your zucchini noodles, and garnish with delicious parmesan cheese. YUM! All the satisfying flavor of traditional spaghetti in a much more nutritious way!
Print
Turkey Meatballs and Zucchini Noodles
Author:
Prep Time:

15 minutes

Cook Time:

20 minutes

Total Time:

35 minutes

Yield:

4

servings

1

x
Category:

Dinner
Grapeseed oil spray

1 ½

lbs lean ground turkey

½ cup

diced crimini mushrooms

¾ cup

uncooked oats *

1

large egg

1 tbsp

Worcestershire sauce *

1 tsp

oregano

1 tsp

garlic powder

1 tsp

olive oil

2

large zucchini, spiralized into pasta
Seasoning salt

2 cups

marinara sauce
Grated regular or vegan parmesan (we like the brand Go Veggie)
Instructions
To make the meatballs, first preheat the oven to 350. Line a baking sheet with foil and spray with grapeseed oil. In a large bowl, add the turkey, mushrooms, oats, egg, Worcestershire, oregano, and garlic powder. Using your hands, mix together until well combined.
Scoop out mounds about 1 ½ inches thick and round them by rolling them in your hands. Spread out on baking sheet. Bake about 20 minutes, or until cooked through.
Meanwhile, heat the marinara sauce on low in a small pan on the stove. In a sauté pan, heat oil over medium high heat. Add spiralized zucchini to the pan with a little seasoning salt. Stir constantly for 3-4 minutes. Remove zucchini from heat.
Toss meatballs in marinara sauce and use to top zucchini noodles. Garnish with parmesan cheese.
Notes
*To make this dish gluten-free, use gluten-free oats and Worcestershire sauce.
I hope you enjoyed this one as much as I do! Questions or comments? Leave them below or contact me directly at me@samanthaelaine.net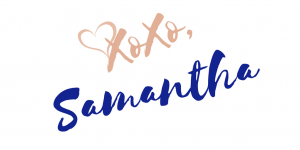 Like it? Love it? Share it!