Hey hey hey! I'm so excited to FINALLY share a new recipe again! It's only been what, forever? If you follow me on Instagram I recently asked in my stories what people wanted to see from me, and the consensus was more variety. I like to give the people what they ask for, so I'm trying to mix it up a bit. I'll be sharing more health tips, life updates, and other topics near and dear to me.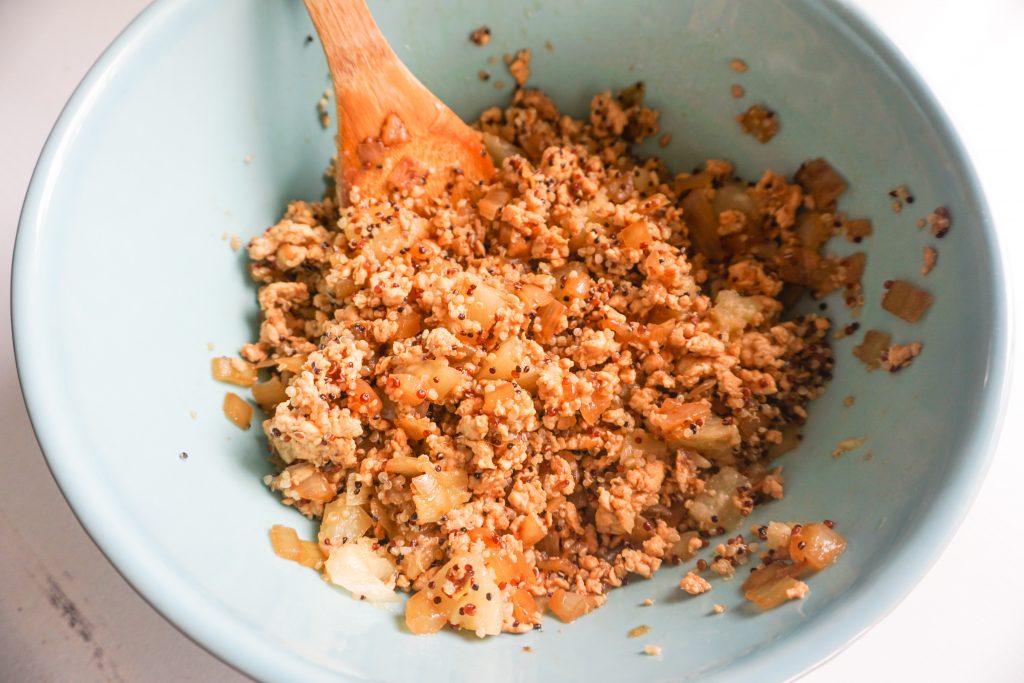 These tasty Teriyaki Chicken and Quinoa Stuffed Peppers are so delicious though I just couldn't wait. I've been making this dish for our family for years now- in fact it was one of the first I ever shared on social media. The filling crumbles up and is a good mix of sweet and savory, perfect for tiny hands and developing taste buds. Charlie had it when she was little and now Evee is quickly becoming a fan! Since bell peppers are in season, they're at maximum flavor capacity and you can get them CHEAP! Win win!!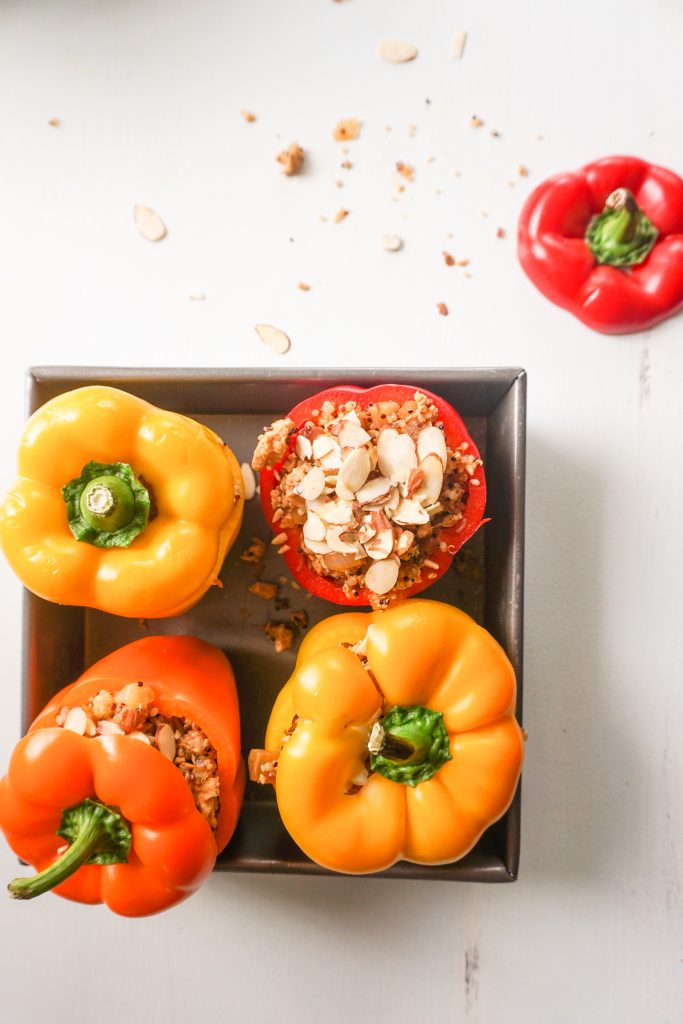 I try to buy seasonal whenever possible because honestly, it's worth it.
I care about this planet and shopping seasonally is so much more environmentally friendly. Here's why: produce that is out of season is often grown a long way away from home. I'm not just talking the next town; we're talking continents here. When produce has to travel a long distance to get to you, more fuel is required to make that possible. Which, as we all know, doesn't make Mother Earth a happy gal.
It's also much cheaper to shop seasonally, partially thanks to the reduced travel cost but also due to the sheer abundance of it! Have you ever had a neighbor that grew oranges or something? They're practically forcing those babies on their friends because there's too much all at once. (By the way, I will take anyone's excess oranges. Just saying.)
And of course, it's both healthier and more flavorful to buy in season. The produce is allowed to fully ripen instead of being picked before its ready in order to travel. Ripe produce means richer flavor plus a greater vitamin and mineral content. Good news all around.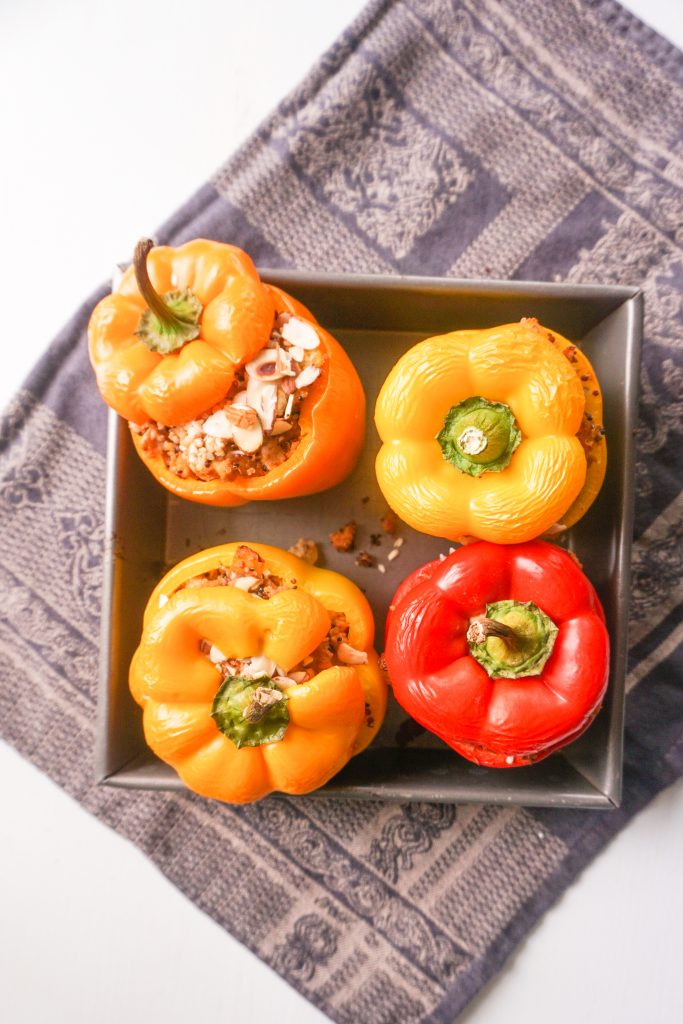 But back to these stuffed peppers. They're quick, they're easy, and they're so so good! If you're not a fan, then I don't know if we can be friends. I'm kidding, of course we're friends. You're here, right? That's about all it takes!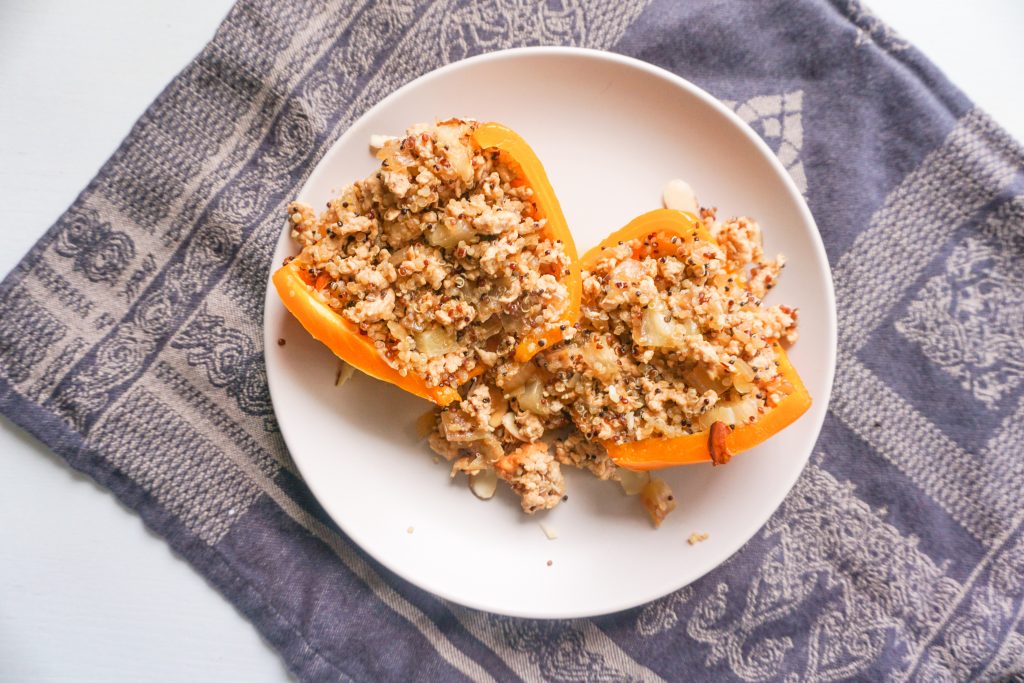 Not sure how to prepare the bell pepper? It's simple! Slice the top off your pepper so that it's like a lid. Using a small knife, or honestly just your hands, remove the center that's covered in seeds and all the little white membranes. That's it!
Teriyaki Chicken and Quinoa Stuffed Peppers
Healthy, completely satisfying, and a unique dish the whole family will love!
1 lb lean ground chicken
1 yellow onion (diced)
1/4 cup teriyaki sauce *
1 cup quinoa (cooked)
3/4 cup canned pineapple chunks (in 100% juice)
4 bell peppers (cored and tops set aside)
1/4 cup sliced almonds
cooking spray
1. Preheat oven to 350. In a saute pan coated with cooking spray, cook onion over medium high heat about 2 minutes. Add ground chicken and continue cooking until it is cooked through, making sure to chop chicken into pieces.

2. Transfer chicken mixture to a bowl and add quinoa and pineapple to finish the filling.

3. To prepare peppers, slice top off and remove seeds and membranes. Place in a baking dish that supports the sides, and fill with the chicken and quinoa mixture. Top with sliced almonds and spray lightly with cooking spray. Add the top back to the pepper and cook in oven for 25 -30 minutes.