Hey there! I know that I've been gone for a little while, but it was for one of the best reasons. I had to plan my wedding! It was such an amazing, busy, memorable time that led up to one of the best days of my life.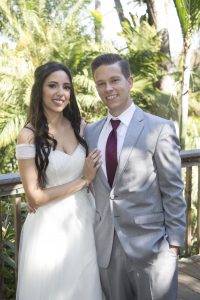 And I want to share that experience with you, not only to show off some of my favorite pictures, but also to help anyone who is also planning their own wedding! Here we go.
The proposal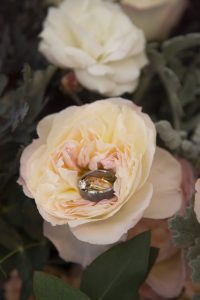 It all started one day last May. Zach cryptically messaged me and told me that he had an errand to run, and I could not come with. Which was weird in itself, since that NEVER happens. So I went about doing little chores at home, waiting for him to get back. When he walked through the front door, I could tell something was different. He had a sort of nervous excitement about him; he asked me to sit down and he dropped to one knee, right there in our living room! And he asked me to spend the rest of my life with him, because I was the only thing he wanted. (Awwwwwww!)
Inspiration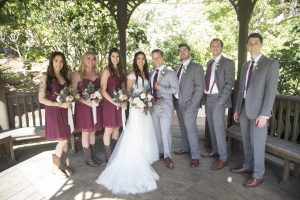 So we set about planning a wedding together. One of the first things I did was setup a Pinterest board so I could start to visualize what we wanted in our wedding. Rustic was one of the first themes to pop out, but also vintage, with lots of greenery and succulents. And we started to notice some beautiful organic colors really starting to become more prominent, like a deep wine red, soft blush pinks, champagne gold, ivory, and sage green (can you tell we like wine?). 
The venue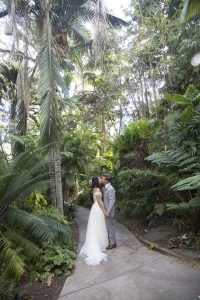 We looked at a few different venues before settling on the right one. A lot of it came down to price, but also the time of year. We knew that we were leaning towards a February wedding, which meant that a lot of the outdoor locations we wanted weren't going to be as green yet as we were hoping for.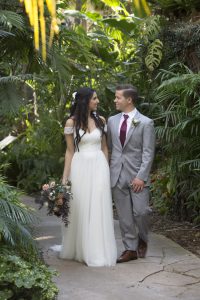 And then we found the San Diego Botanic Gardens. Lita, their coordinator, is absolutely wonderful. She helped us through the whole process, and answered all of our questions and concerns as they came up. It perfectly fit into our budget, and if you've never been there, the gardens are stunning! We decided on an afternoon wedding when it would still be the warmest part of the day (because hello, February!) and the cost was a little cheaper. Find a link to their pricing here. There are a few specific rules and regulations, so be sure to read through everything to make sure the place is right for you. It was perfect for us!
The bride and groom's attire
After that was decided, I knew that I needed a dress! It's one of the most important aspects of the day, am I right ladies? I checked out a few different boutiques and nothing was quite perfect. And while actually visiting a different dress shop, I stumbled upon Bridal Showcase. They have such a great variety of dresses, and so many that fit the criteria that I had settled on! The women really listen to your desires, and help you find THE ONE. I loved it!
And it could only be so perfect that there was a tuxedo shop right next door, Friar Tux. Zach was able to get in and setup everything he needed for him and his groomsmen to get fitted, and the guys there were helpful in showing us the different styles and colors available. The only thing that we ended up getting separately for the guys was suspenders, because I loved the way the grey tux looked with brown leather ones!
The food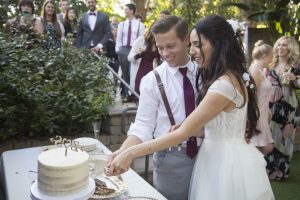 Living in Southern California, we are surrounded by some of the best food imaginable. But that also can come with a hefty price tag. I started shopping around for caterers online, and I saw an average of $90 per person for the pricing! That was more than I was trying to spend in our budget, and our venue was particular about the vendors they would work with.
Then we happened upon a tiny little place that we had been to before, but never really considered as a wedding caterer -the Seaside Market in Cardiff. And we found the perfect lunch option for us: a taco bar! Zach has to be gluten and dairy-free (which is why almost every recipe on this blog meets those restrictions!) and we didn't have to change a thing about this menu. We chose tri-tip, chicken, and mahi-mahi for our meat choices, and it came with everything else! And the cost was so reasonable, which worked out perfect for us.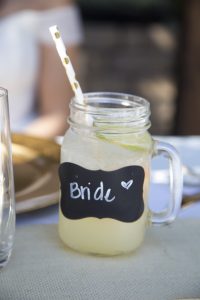 And that's how we came to meet Monica, their coordinator. She was wonderful, and actually helped to link us up with the bartending service that we used. We knew that we wanted a pretty simple bar, and we ended up serving mimosas and margaritas, our two favorite drinks!
The desserts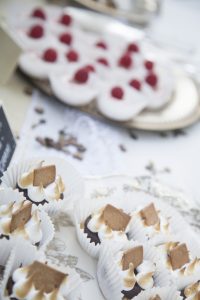 Since I am formally trained as a pastry chef, I almost thought about making my own desserts. But then I came to my senses; I already had enough on my plate as it was! So after some searching, we found Sweet 101, which is a little dessert catering company in Encinitas that has gluten and dairy-free dessert options. They even make donuts! So we ordered a variety of desserts including three flavors of donuts, four types of cookies, and a coconut cake! And wow- we were so pleased with how it all turned out. Delish!
All the little extras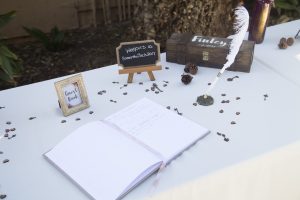 I bought a lot of our decor on Etsy, one of my favorite websites during this adventure. We found so many unique, interesting, and even custom-made items that really helped to make our day that much more special. Everything from jewelry, gifts for the bridesmaids and groomsmen, even our invitations, guest book, and the wine box for our ceremony!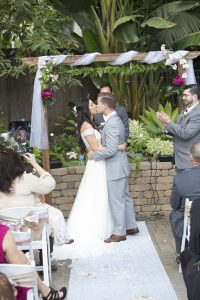 And the decor? Well my family did most of that! They did an amazing job making my dreams and ideas a reality. Pinterest really helped to make my thoughts tangible, and it was just bringing it all together. My father made the arch, which he stained a dark wood. We then decorated in with tulle and silk flowers that I purchased from Afloral, an online faux flower boutique.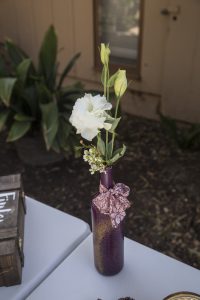 My mother and her wife made all the table decor, from the bows on the back of the chairs to the hand-painted wine bottles that held the flowers on the tables! She even made the mason jar succulents for the take home gift for our guests.
The morning of the big day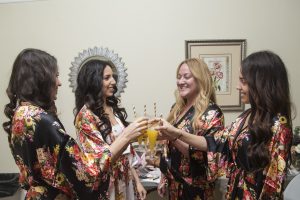 And then, all of a sudden, it was our wedding day. After all the planning, the organizing, the stressing, it was time! We started getting ready early in the morning. While the bridesmaids and I did hair and makeup, our friends and family did everything else! We were lucky that they were willing to do all of the coordinating and decorating. And it looked stunning! I couldn't believe how well everything came together.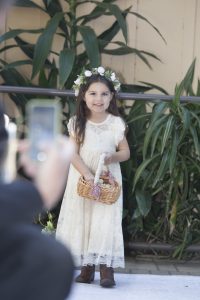 Our little Charlotte was a handful! But when it came time for her to get ready, that was her time to shine. And she was the little boho princess that I imagined, complete with pretty pink flower crown and cowgirl boots.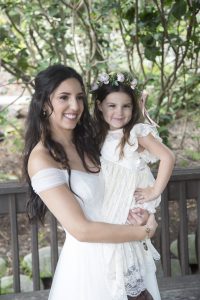 I loved the way she looked at me, and I can't help the way I looked at her. This was her special day too and I'm so glad that she enjoyed it.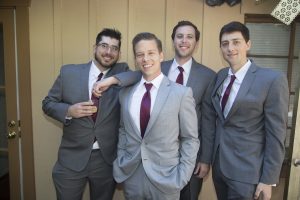 The guests were arriving, and it was almost time. I started to get nervous, and thank goodness there were mimosas! The girls were finishing getting ready, and my sister, my maid of honor, delivered my letters to my mother and father. I could see the men in their tuxes, and I couldn't believe that it was all really happening. And then we were ready.
Our first look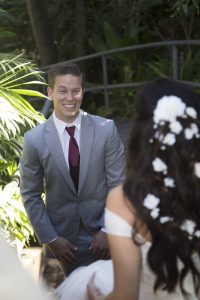 Zach and I chose to do a first look before the ceremony. I wanted it to be an intimate, private moment, where we could feel all of our emotions without an audience. So we could connect with each other for one quiet, perfect moment, before we shared our day with everyone.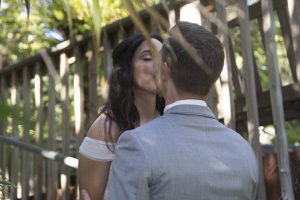 It took the pressure off, because that's what Zach always does for me. He makes me laugh and forget everyone else! I knew could handle the rest of the day with him by my side.
The wedding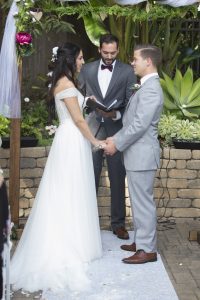 And everything was perfect. My brother performed the ceremony beautifully and was exactly how I imagined. He was ordained specifically for this event, and we were so blessed that he was willing do to that for us.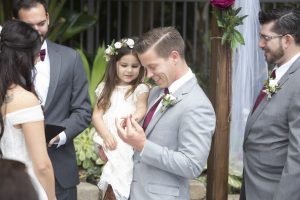 And I think everyone's heart melted when Charlotte came up to the arch with us, so that Zach could say his vows to her as well. She was proudly showing off her ring all day!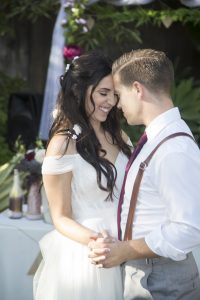 We laughed.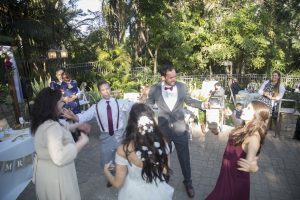 We danced.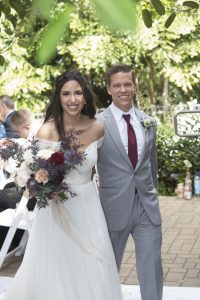 We were so happy.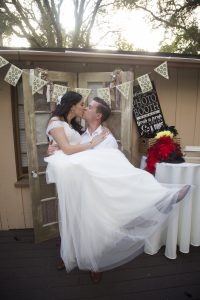 It is a day that I will remember with a smile on my face. The day I said "I do" to my best friend in the whole world. A day that I will cherish for the rest of my life.