Literally cannot wait for this week, because guess what arrived today? My brand spankin' new Sony A6000 DSLR Camera. BOOM.
Ok, so I have to admit something. The camera did come a week or so ago, when I first posted it on instagram. But this funny girl didn't realize I had to purchase the camera WITH A LENS or it wasn't going to work! I thought I was saving myself money by purchasing it as the "body only". Well don't try it at home folks, you'll be sadly disappointed. So after returning the other camera and purchasing the new one, the ordeal is finally over. And she's so pretty! I'll show some pictures later.
Back to the original reason for this post- the newest menu and grocery list is here! And for the first time ever, on the blog! Please, hold your applause.
Drumroll please…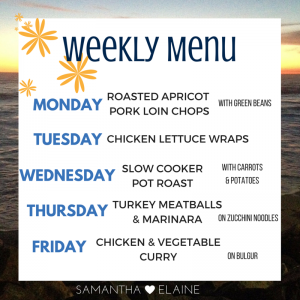 Ta Da! So remember, the idea here is that I will post a menu and grocery list on Friday. Over the weekend, do your grocery shopping when it is convenient for you! I want this to help make your life EASIER. I will also be posting some meal prep ideas on instagram so be sure to check there on Saturday.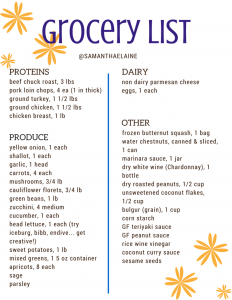 Download your printable grocery list here!
During the week, I'll post each recipe the night before you're going to make it, so that you can get a chance to review what it is you'll be doing. For example, on Sunday evening, I will post the recipe for Monday, which is the roasted apricot pork loin chops (YUM!).
If you don't want to follow the entire menu/grocery list, there will still be some awesome recipes coming throughout the week, and the menu will give you an idea of what you get to look forward to!
Be sure to check both instagram and the website! This stuff is what I live for. I'm so absolutely thrilled that I get to share it with you!