Ta-ta-ta-TA! Say what?! There's finally a new menu and grocery list up? Yes sirs (and madams!) you heard right! I know it's been awhile in the making but I'm happy to announce a new menu that sums up the past 5 recipes that I've posted.
Now what I want you to do is visit the recipes, and first, PRINT THEM. This is going to make it so much easier to follow! Either download them onto your phone or print them off your computer to look at a paper copy. Second, make sure you like everything on it! It's a great, dare I say wonderful idea to try something new, but if you absolutely hate something, switch it out!
Here are links to every recipe on this menu:
Sausage, Chicken, & Shrimp Gumbo
For example,  I simply cannot stand cilantro. I may add it to a lot of the recipes I make because I know other people love it, but if you look closely at my photos, it's always parsley! I could not bear to have cilantro all over my food, not even for a good picture. Anything you need to switch out, just change it on your grocery list. Otherwise, if you're happy with everything, you're ready to rock and roll!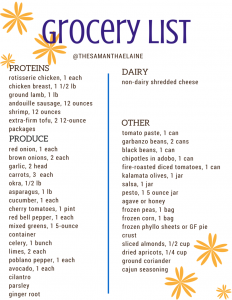 Download your printable grocery list here!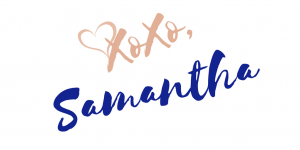 Comments, questions, concerns?
Leave them in the comments below or contact directly at me@samanthaelaine.net.
Like it? Love it? Share it!