September brings busier schedules: school has started, the days are getting shorter, and it seems like the laziness of summer is ending. Let me help you make the transition just a little bit easier with a complete dinner menu for four, and the grocery list to go with it! They feature the most recent recipes that I've posted, and who knows- maybe you should have one more s'mores for good measure. I won't tell!
Simply add the other items you're going to need for breakfast, lunch, and snacks, and you are good to go! Not a family of four? Modify it to your needs! My family is two adults and a small child, so we like to use the menu for four because it provides dinner each night and enough leftovers to take for lunch the next day. Can it get any better than that?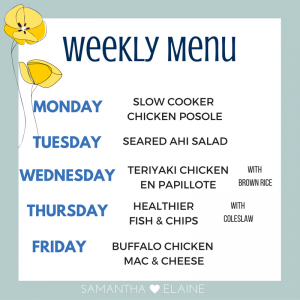 Here are all links to all the recipes on this menu:
If you decide to make your own shredded chicken rather than buying a rotisserie from the grocery store, follow my recipe for Slow Cooker Roast Chicken!
Here is your grocery list for the week!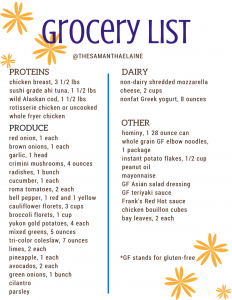 As always, please refer to my list of Pantry Staples that you should always have on hand. I don't add these items to your weekly grocery list, so make sure they are all stocked!
Here are your printable copies of the grocery list and menu. I can't wait to hear what you think!
Download your printable grocery list here!
Download your printable menu here!
You'll find that I'll be moving into some more fall flavors soon now that September is upon us. Stay tuned for squashes, chili, and more slow cooker recipes coming your way!
Thanks for all of your support lately- big things are coming soon!
I hope you enjoyed this one as much as I do! Comments, questions, concerns? Leave them in the comments below or contact directly at me@samanthaelaine.net.
Like it? Love it? Share it!