For those of you here in the US, I hope that you had a wonderful Thanksgiving weekend! I hope that it was full of family, and laughter, and most of all, giving thanks. Surprisingly though, that's not what most people think of when they consider their holidays. Any guesses as to what it seems to be centered around?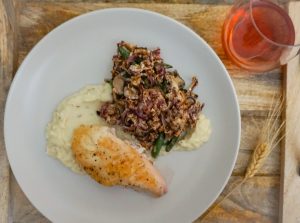 That's right, THE FOOD. And not that there is anything wrong with that! Now I'll be the first to admit, Thanksgiving with my family was far from being a completely healthy spread. We made some great substitutions, but we didn't feel stressed or pressured to provide. Instead, it was about having a good time cooking as a family, and enjoying the company during a good meal!
Tips to make your holidays healthier
Let's talk some more about how to make your next holiday just a little bit healthier. First off, it's important to have some healthy options available! Will your next holiday party provide a green salad or another fresh vegetable dish? If not, consider making or bringing one of your own!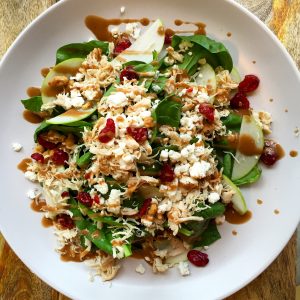 Personally, we love to bring our Apple Pecan Salad with honey mustard or balsamic dressing. It's always a hit, And perfect during the fall and winter seasons. Find the recipe from Instagram here (I leave out the chicken for get-togethers, but you are welcome to add it!).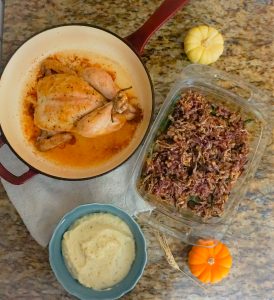 You could also freshen up an old recipe with some healthier substitutions! This is a personal favorite of mine. I love to create "recipe makeovers" and show that lighter fare can still taste just as good! Some great ones to try for you holiday meal would be my two new recipes: Cauliflower Mash and Green Bean Casserole. You will love the fresh mushroom sauce in the casserole!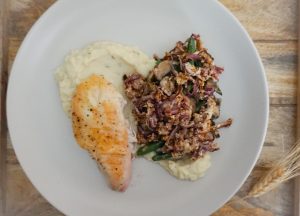 And then, of course, it's exercising portion control for everything else. Are you a big fan of the sweet potatoes covered in marshmallow? And can I get some hands raised for the stuffing?! I know I'm not the only one out there! You can still have the foods that you love, but in moderation.
Healthier Holiday Plate
Try this: fill up half your plate with vegetables. And I don't mean regular mashed potatoes or green bean casserole here! Think salad, steamed or roasted vegetables, or one of the healthier substitutions listed above.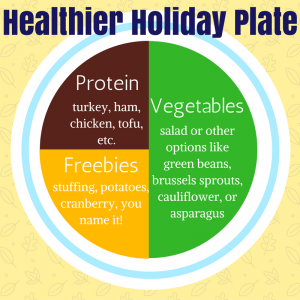 Then, fill up a quarter of your plate with protein. What does your family serve? Turkey or ham? (I made a Lemon Garlic Roast Chicken, and it was amazing!) Or maybe something vegetarian, like tofu? No matter what kind of spread you have, protein like meat, poultry, beans, lentils, or tofu will give your meal the lasting power it needs to help you feel full!
Last, give yourself those things that you love. Whether it be stuffing, sweet potatoes, cranberry sauce, or dinner rolls, keep it to the remaining quarter of your plate! And after one plate? You're done! There really is no need to go back for seconds (or thirds, fourths, etc.). If you're truly still hungry, stick to protein or vegetables.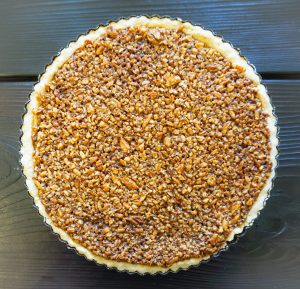 Or save room for dessert, like I did for the Caramel Pecan Tart that I made! (recipe coming soon.) There's no need for a diagram here though. Just have one little slice, and call it good. Don't binge and wind up regretting it!
So there you have it. My two cents on how to keep you holidays just a little bit healthier. Take my advice and spend these wonderful days making memories with those you love, not getting so full that you don't want to move. You want to look back on those holidays and think about the people and the experience! It's about getting back to the root of it all. I hope you have a lovely holiday season! Cheers!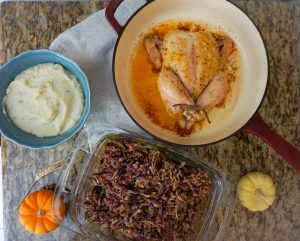 I hope you enjoyed this one as much as I do! Comments, questions, concerns? Leave them in the comments below or contact directly at me@samanthaelaine.net.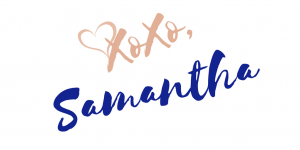 Like it? Love it? Share it!