Plus, tips on how to be a better morning person.
Are you a morning person? If you are, I'm jealous. I feel like maybe I'm a morning person-in-training. Much of the time, I wake up feeling sort of confused and groggy, like I'm entering a daze. And it really doesn't help that it stays dark until 7 am lately. But then, there are those rare occasions where I wake up and feel ready to tackle the morning. Maybe I'll brew the coffee, get in some exercise, or even whip up a batch of our favorite Gluten-Free Greek Yogurt Biscuits. I love those days! Here are some tips on how to have more productive and spirited mornings.
Experts say that if you want to wake up refreshed, try going to bed about an hour earlier. So simple, right? Try beginning your evening routine sooner, or if you don't have one, SET UP AN EVENING ROUTINE. At our house, we like to make a cup of Yogi Bedtime Tea or Celestial Sleepytime Tea to kick the whole thing off. And it's important to shut down all of your electronics (think TV, cell phone, tablets) to help lull you into a good night's sleep.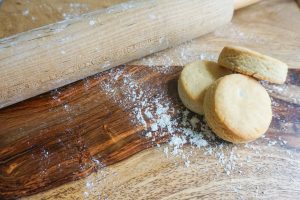 You can also give yourself a reward in the morning for successfully avoiding the snooze button. Because hey, that's a feat in itself if you ask me! So make that extra cup of coffee, read an article, or even get in some exercise. Honestly, the latter is probably the best thing you can do. I know it may not sound like a reward, but trust me. I was the best morning person that I could be when I was in a good routine of waking up and working out almost every day.
But if reading is more your thing, I recommend checking out theSkimm. I started using it about 6 months ago, and it really helps me feel connected! Monday through Friday they send you an email that keeps you up-to-date with global current affairs, so you look like you know a little bit about what's going on in the world. The best part? You can read it in about 5 minutes or less. Check it out here.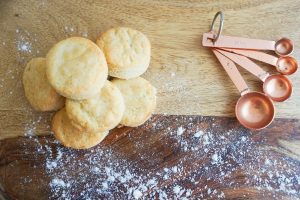 The best thing you can do to successfully become a morning person is to eat. That's right. Your cup of coffee isn't going to cut it solo. You need a good balance of protein, carbs, and fat to start your morning right. Plus, there's the added benefit of getting your metabolism into high gear first thing.
That's why we love these Gluten-Free Greek Yogurt Biscuits. I can make a batch of them on Sunday (or even a double batch), and use them all week to give breakfast a little extra something. Our go-to pairings? Try these ideas:
Classically paired with scrambled eggs and a slice of bacon
Topped with peanut butter, banana, and chia seeds
Spread with mashed avocado and smoked salmon
Smeared with organic raspberry jam and served with
a half cup of nonfat Greek yogurt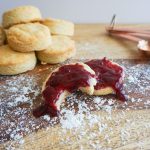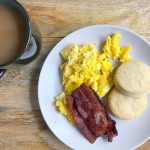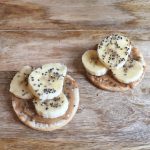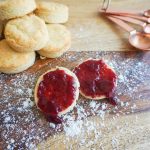 Images taken from my Instagram @thesamanthaelaine
Do you have more ideas? Share them below so other readers can try them out!
Print
Gluten-Free Greek Yogurt Biscuits
A healthier, gluten-free alternative to other biscuits! Nonfat Greek yogurt replaces the butter, so you can have less guilt and more fun.
Author:
Prep Time:

10 minutes

Cook Time:

15 minutes

Total Time:

25 minutes

Yield:

12

biscuits

1

x
2 cups

Bob's Red Mill 1 to 1 Gluten-Free Flour *

1 1/2 tbsp

baking powder

1/2 tsp

salt

2 tsp

sugar

1 cup

plain nonfat Greek yogurt **

1/2 cup

unsweeted original almond milk, divided
2 tbsp

vegan butter (optional)
Instructions
Preheat oven to 425 degrees. Line a baking sheet with parchment or a reusable nonstick mat like a Silpat.
In a large bowl, whisk together flour, sugar, baking powder, and salt. Add in yogurt and 1/4 cup almond milk, and stir with a wooden spoon or spatula until dough comes together and forms one large mass (add more milk if necessary).
Transfer to a lightly floured surface and knead until smooth. It will be sticky! Roll out dough with a floured rolling pin to desired thickness. I like them about 1 inch thick, even though they do not rise much. It helps keep them from being too doughy inside.
Use a biscuit cutter to cut out biscuits. If you don't have one, try cutting yours into squares. Gently re-roll dough as needed to cut out more.
Place biscuits about 1 inch apart on baking sheet. Brush tops with melted butter, if desired. Bake about 15 minutes or until lightly browned.
Notes
*You can use other gluten-free flour blends, just make sure that they are ready-to-use without additional conversions and do not require additional xantham gum.
**If you are dairy free, please use a vegan Greek yogurt.
I hope that you enjoyed this one as much as I do! Comments, questions, concerns? Leave them in the comments below or contact directly at me@samanthaelaine.net.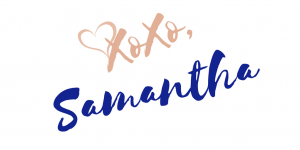 Like it? Love it? Share it!