Sometimes, I would honestly kill for a roast beef sandwich. When the bread is toasted, there's melted cheese all over, I can't even! And to top it all off, some warm, rich french onion soup just begging you to dip the sandwich in… I mean am I right? You can practically taste it! Well I've created a healthier version of that recipe to take care of that craving, and let me tell you. It meets all the criteria.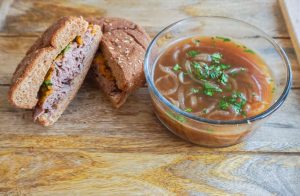 Healthy sometimes gets a bad rep. So many people think "Oh, it must not have any flavor". Well you must have had a bad experience my friend, because over here I'm all about flavor! And now I've even started including nutrition labels, so you can check out exactly what you're getting in this recipe.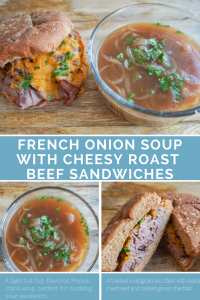 To make this baby healthier, I've made a few modifications. First, I swapped out the traditional french roll on a roast beef sandwich for a healthier, whole-grain bun. If you're gluten-free, there are still some great alternatives out there! We've found buns at Trader Joe's and in the freezer section at Sprouts.
Next, I cleaned up the French onion soup. A lot of the time it also has bread in it, and it's topped with cheese. I thought that was a little overboard, since we have cheese and bread in our sandwiches, hellllo! Removing them is an easy way to reduce your overall caloric intake here.
So I hope you like my easy, healthy, hearty French Onion Soup with Cheesy Roast Beef Sandwiches. It's a recipe that I'm sure the whole family will enjoy!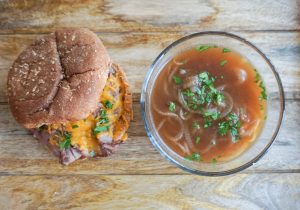 I hope that you enjoyed this one as much as I do! Comments, questions, concerns? Leave them in the comments below or contact directly at me@samanthaelaine.net.
Like it? Love it? Share it!