Happy Friday! We are less than a week away from Thanksgiving now, so I have another recipe for you to try! As part of my healthy Thanksgiving series, I'm sharing my recipe for Cauliflower Mash. This is a MUCH lighter version of its counterpart, mashed potatoes, and I'm about to tell you why!
Right off the bat, cauliflower has a lot less carbohydrates than potatoes do. In a half cup serving of each, you are looking at a difference of 2.7 g carbs for cauliflower to 35 g carbs in potatoes! We also substitute nonfat Greek yogurt for the heavy cream or sour cream that mashed potatoes typically calls for. But you don't mess with the butter! Butter gives the dish a nice mouthfeel and heartiness, I just add a lot less of it.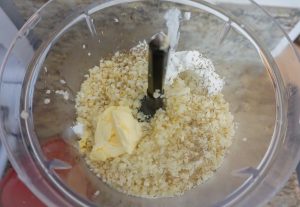 Side note: If you are looking for a dairy-free recipe, I suggest using Earth Balance spread  and Coconut Milk Greek Style Yogurt. If lactose is more your issue, I find that I can use traditional Greek yogurt just fine and it doesn't bother my stomach! But I definitely stick to the Earth balance butter.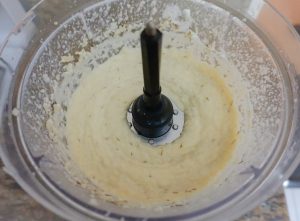 And as I've mentioned before, cauliflower is extremely versatile. It doesn't have a flavor so it easily takes on the flavor of the garlic and thyme in this recipe. If you want to use more fresh ingredients, try using roasted garlic and fresh thyme instead of dry. I'm just being easy and practical over here!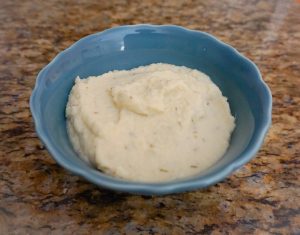 Want to see this recipe on another dish? Check it out on my Instagram page when I used it to make Mini Meatloves!
I hope you enjoyed this one as much as I do! Comments, questions, concerns? Leave them in the comments below or contact directly at me@samanthaelaine.net.
Like it? Love it? Share it!