Hey there! Ok, so I know I've made jambalaya before (find the recipe on instagram @thesamanthaelaine), but I'm here to say I think I love gumbo more. Trust me, ask me 5 years ago and I probably would have looked at you like you were crazy. Okra was not something I had ever tried before. But now, I love it! I use okra in plenty of different dishes, and I'm always a fan!
First off, have you ever enjoyed a bowl of gumbo? It's packed with that spicy, Cajun flavor, and plenty of good for you veggies. I know I used to think that it looked incredibly complicated, but in reality, everything basically gets added to one big pan and cooked together to make something divine. So good, that I had both the fiance AND the toddler absolutely thrilled with dinner, which is not an easy feat.
How to make the gumbo
There is quite a bit of prep, but if you take care of that earlier in your week with some meal prep, then everything comes together in a cinch.
You'll start by heating up some oil in your pan to brown the sausage. Then remove the cooked sausage from the pan and set aside. (By the way, andouille has a kick to it. Looking to bring the heat of this dish down a notch? Try a chicken apple sausage instead!)
If there is enough fat and oil left in the bottom of the pan, you're good to go. If not or you're unsure, add in a little more oil. Then begin adding the veggies! Start with the onions, and then the garlic.
Then add the celery, bell pepper, and okra. Let these cook a little to soften up a bit. Add in the flour. While the flour is in, make sure you KEEP STIRRING. You don't want it to burn! This step really adds depth to your gumbo, as well as providing a thickener (in addition to the okra, which also adds some body to your sauce).
Then add in your tomatoes, followed by the cajun seasoning, chicken and sausage. Like it a little more spicy? Try adding in some cayenne! Use a little water to deglaze the pan. You do this by using a wooden spoon to scrape and push the buildup off the bottom of the pan. This stuff is GOOD. You don't want to miss out on it! Plus, it helps with the cleanup process later.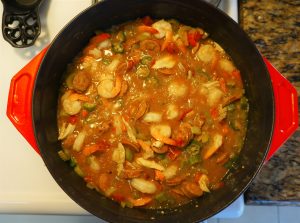 Let everything simmer for about 25 minutes, and then add in your shrimp. Stir them in until cooked through. Serve this dish with cooked brown rice and parsley or green onions on top.
That's it! It wasn't so bad now, was it?
Questions, comments, or concerns? Leave them in the comments below or contact me directly at me@samanthaelaine.net.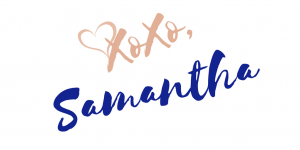 Like it? Love it? Share it!