I'm assuming I can't be the only parent out there who struggles to get their kid to eat dinner. I think it's worse than trying to get her to sleep, and that's saying something. Don't get me wrong, she is sweet and loving and hilarious, but also extremely strong-willed and just a tad manipulative. She'll bat her eyes at me, and sweetly ask if she can have a hot dog and quesadilla for dinner. EVERY. DAMN. NIGHT. So my trick? I make her absolute favorite meal, Cornflake-Crusted Chicken Strips, and pair it with a healthy veggie on the side. Because balance.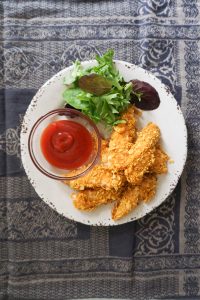 The chicken strips have the perfect amount of crunch and taste amazing with my super fancy dipping sauce, ketchup. Plus, a happy kid who actually eats her dinner means an equally happy mom who doesn't have to rip her hair out.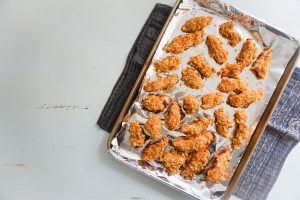 Charlie actually called it "Snowflake Chicken" for the longest time, because that's what she thought cornflakes were called. Adorable, right? I don't even think she knows that I sneak in some more parent-approved ingredients like whole-grain mustard and Worcestershire sauce. We're trying to warm her palate up to it, okay?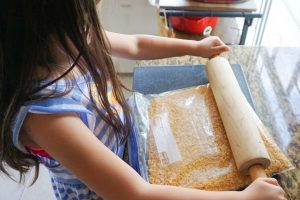 It's even a fun recipe to let the kiddos help out with! Personally, I like to sit back, relax, and let Charlie go at a zip-locked bag of cornflakes with either a plastic cup or a rolling pin. Often she chooses both, and we both feel better after she's done. Don't have a kid to help you out? You'll probably find it pretty therapeutic yourself. Go ahead, whack that bag of cereal.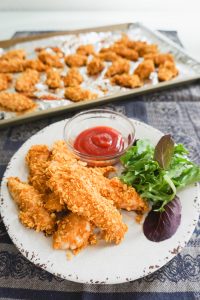 For more recipes and healthy lifestyle tips, follow me on Facebook or Instagram @thesamanthaelaine. I can't wait to connect with you!!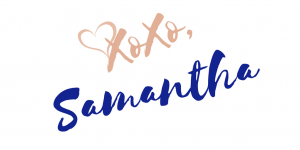 Like it? Love it? Share it!