Good morning sunshine! I hope that you are well-rested, with all of your chores done, the kids are happy, and the world is perfect. That way, you are delighted to spend two hours in the kitchen preparing dinner tonight! No? Wishful thinking? I hear you! Let me make things a little easier and introduce my Slow Cooker Chicken Fajitas.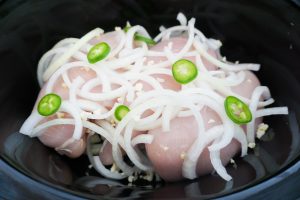 Even if everything is going swell, maybe you just don't want to spend that long on dinner. That's why I LOVE my Hamilton Beach Programmable Slow Cooker, 6-Quart
. It makes it seem like I spent forever in the kitchen, when really, this little guy does all the work for me! In the morning, simply add your chicken breasts, sliced onions, chopped garlic, and sliced jalapenos into your slow cooker, turn the heat to low, and let it cook for 8 hours!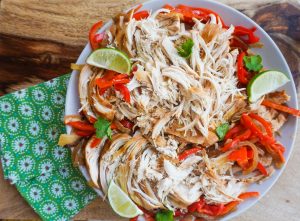 When you get home from work, or a day playing at the beach, dinner will practically be waiting for you. Add in some sliced bell peppers about 30 minutes before you're ready to eat. I don't like to add them too early or they practically disintegrate. Follow my tried and true method to get juicy, flavorful shredded chicken, onions, and peppers. Just thinking about them gets my mouth watering.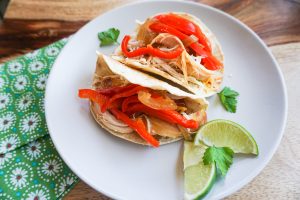 I stuff all of those goodies into crisped corn tortillas. My husband has this nice little trick where he turns them into little taco shells without any oil. He places a nonstick pan over medium heat, and lets it get warm. Then he adds the tortilla, and wait until it starts to get some nice brown color on the first side before flipping it. When both sides have been crisped, he removes the tortilla from the pan, and folds it into a taco shell to cool on a plate.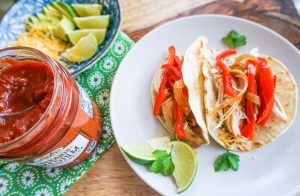 And honestly, what's not to love about fajitas! Because after all of that tasty chicken and pepper mixture goes into your tortilla, you get the TOPPINGS. Personally, we love a little salsa, cheese, avocado, and a generous squeeze of lime over the top. Light, easy, flavorful, am I right? But some other great toppings might be:
nonfat sour cream (or even better- plain nonfat Greek yogurt!)
guacamole
fresh jalapenos
cilantro
(insert your favorite here!)
What are some of your favorite toppings to go on your fajitas? Let's brainstorm together and make some of the most EPIC tacos ever! Leave your ideas in the comments below!
I hope that you enjoyed this one as much as I do! Comments, questions, concerns? Leave them in the comments below or contact directly at me@samanthaelaine.net.
Like it? Love it? Share it!