A sweet and savory, fresh summer salad packed with antioxidants and bursting with flavor! Enjoy it poolside while you're working on your tan.
It's summertime, finally! Here's to sunny days, relaxing by the beach (or pool), trying to catch a cool breeze and a tan. When the days get longer (and HOTTER!), who really wants to spend their time indoors preparing a meal? Not this chick! Summer calls for easy, breezy salads that can be ready in 10 minutes flat. And something about this weather just makes me crave fruit; I know I can't be the only one. So here's my Chicken Berry Salad with Bacon and Toasted Walnuts.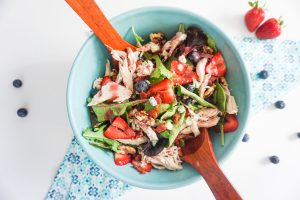 Yes, you heard that right. There's bacon in there too! My husband used to say that bacon was a food group, but he's come to understand that it's more of a garnish. And what goes better with bacon than it's old, stinky friend blue cheese? Top it all off with some toasted walnuts for a little bit of crunch. It's like a match made in salad heaven. You get salty, tangy, savory flavors that pair so well with the bright fresh berries.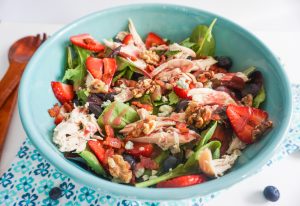 And this dish is full of berry goodness that packs a serious nutritional punch. Berries are full of antioxidants, phytochemicals, and fiber, and they actually have a relatively low sugar content. They can help slow the aging process, keep you mentally sharp, and even combat cancer. You need less than a cup a day to reap these awesome benefits.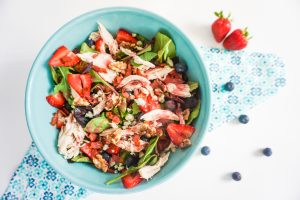 Pair this lovely little salad with my Red, White, and Blue Sangria, and you've got my kind of perfect pool day. Cue some country music.
I hope that you enjoyed this one as much as I do! Comments, questions, concerns? Leave them in the comments below or contact directly at me@samanthaelaine.net.
Like it? Love it? Share it!