Tender, succulent shrimp on a bed of delicious, low-carb vegetable noodles with a spicy peanut flavor. It's hard to resist!
Man, it can be tough to eat enough vegetables. I get bored of the same old thing, day in and day out. Sometimes I just can't stand eating any more steamed broccoli! So I came up with this colorful, flavorful veggie noodle bowl that provides a TON of vitamins, minerals, antioxidants and more. Introducing my Thai Peanut Shrimp Zucchini Noodles! I used a variety of kitchen gadgets to get the noodles, so I'll be explaining them below.
Right after Zach and  I were married, we decided to update our kitchen. We bought some killer new items, thanks to the Bed, Bath, and Beyond gift cards that we received. (Thanks friends and family!) One of the purchases that I was really excited about was the OXO Good Grips 3-Blade Spiralizer
. Let's just say I've been having some fun with it! I used the smallest setting that most resembles spaghetti noodles to spiralize the zucchini. But then I got to thinking, what other ways could I make veggie noodles?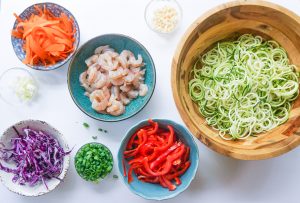 So I actually got a little more creative and used both a vegetable peeler and my mandolin to create the different types of veggie "noodles" in this dish. For the carrots, start by peeling them all over. Then place the carrot firmly on your cutting board and continue peeling to form ribbons. I like to rotate the carrot periodically so that the ribbons are more uniform.
I chose to use the mandolin for the red bell pepper. First, cut the top off your pepper, and pull out the core with your hands. Then set your mandolin on the second thinnest setting to make sure that they are about the same width as your zucchini and carrot noodles. Holding the bottom of your bell pepper, slide it across your mandolin to form rings. When you have sliced the whole pepper, take your rings and cut them in half, so they are more like thin strips. This ensures that they cook quickly, like the rest of the vegetables.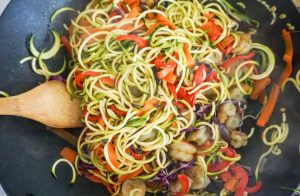 My husband thought it was funny that I was using the white part of the green onion. Trust me, it is edible my friends! In fact, using that portion also produces less waste and a more cohesive flavor. I find that the whites are more mild than a regular white onion.
The last few items are easy. I like to purchase my cabbage already shredded, but you could easily purchase a whole head of red cabbage and thinly slice it on your own. Chop up some peanuts to garnish on top, and some of the tops of the green onions. The whole recipe only takes about 10 minutes to cook after that!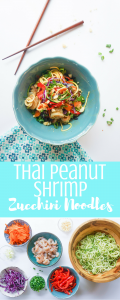 I hope that you enjoyed this one as much as I do! Comments, questions, concerns? Leave them in the comments below or contact directly at me@samanthaelaine.net.
Like it? Love it? Share it!