A quick and easy breakfast that is literally made overnight! Peaches, cinnamon, and almonds make it taste just like an old-fashioned cobbler.
Let's face it, we can all be a little lazy in the mornings. There are those rare days where I actually get up early and want to make a full breakfast spread. But trust me, it doesn't happen often, especially during the work week. That's where these lovely peach cobbler overnight oats come in. Make a big batch of them on Sunday and they will be ready in the refrigerator for you each morning, with no further prep necessary. Store them in mason jars or another container with a tight lid, and you can even take them to go!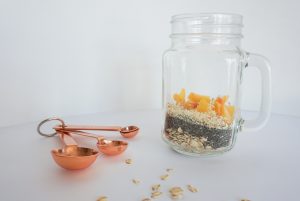 Overnight oats have become all the rage, and for good reason. They're fast, they can be made ahead of time, they taste great, and they are great for you! WINNING all around! My recipe uses both oats and chia seeds, because the latter provides omega-3 fatty acids, fiber, iron, calcium and antioxidants. And oats have a low glycemic index, meaning they can help maintain blood glucose levels. Combining the two can help you stay full longer and provide a more constant stream of energy, rather than spikes and lows in your metabolism.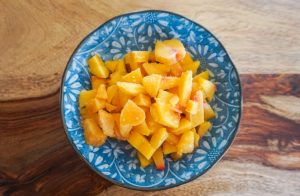 And let me tell you, peaches are my main squeeze. But dammit, it feels like they are only perfectly ripe for about one week out of the year! So I chose to use frozen peaches in this recipe because you can have them anytime. Frozen fruits and vegetables are a great option when your favorite produce is not in season. They are picked at the peak of freshness and flash-frozen, preserving vital nutrients like vitamins and minerals. Canned produce is typically packed in a sugar or salt solution, yuck.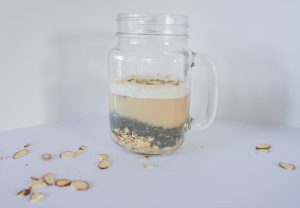 Cinnamon has so many benefits that it's actually considered a "superfood". It's an antioxidant powerhouse that is antimicrobial and anti-inflammatory, explaining why it was used medically in ancient cultures. The spice can also help lower blood sugar levels. Personally, I have also found that my brain associates cinnamon with something sweet, which helps me use less sugar. It might just be me, but try it out for yourself!
There are so many fun variations to overnight oats! What flavors would you like to try? Make sure to leave your ideas in the comments! Need more quick and easy breakfast ideas? Be sure to check out my Better Breakfast Sandwich and make your mornings easier!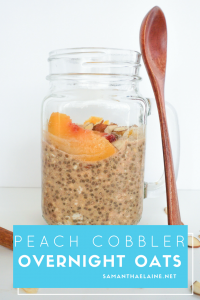 I hope that you enjoyed this one as much as I do! Comments, questions, concerns? Leave them in the comments below or contact directly at me@samanthaelaine.net.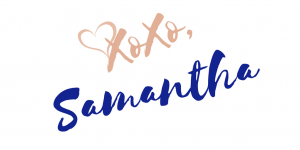 Like it? Love it? Share it!