More often than not, we're rushing to get out the door in the morning. Someone is always trying to find their shoes, or forgot deodorant, or SOMETHING. So breakfast can be a bit of a challenge, but I'm going to be hangry if I skip it. And I admit, it can be tempting to just hit a drive-thru and order a breakfast sandwich to go. But then I realized something; I can make the same thing at home, only healthier and faster. Ladies and gentleman, I introduce the better breakfast sandwich.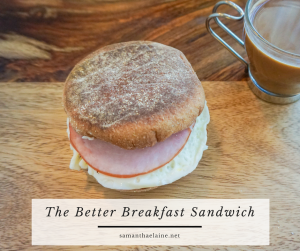 It's better than the drive-thru, I promise, and it has all the same components. There is an English muffin, except I've swapped it out for a whole grain variety. A freshly prepared egg, though the method differs from your traditional fried egg. And there's cheese and Canadian bacon! Are you more of a sausage lover? Try a turkey sausage patty instead!
I think the strangest part might be the microwaved egg. For any of you out there that haven't tried it, this is a game changer. Find a small, microwave-safe dish that is roughly the diameter of your English muffin. Spray it with nonstick spray and crack your egg into the dish. Cover it with a paper towel (this part is important if you don't want cooked egg all over your microwave) and cook until the yolk is no longer runny. If you're not a big yolk person, use a fork to whisk your egg up before cooking.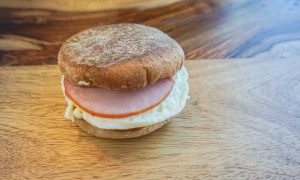 I guarantee that you're going to love this. It's ready in about 3 minutes, which is much faster than heading to the drive-thru. And, it's easy on your waistline. WINNING!
I hope that you enjoyed this one as much as I do! Comments, questions, concerns? Leave them in the comments below or contact directly at me@samanthaelaine.net.
Like it? Love it? Share it!