This week I decided to round up some of my favorite salad recipes, because as the weather warms up, I crave them more! Salads usually take less time and effort than traditional stove top meals, and I'll share some of my tips and tricks to make them even more easy. Less time in the kitchen = more time to play! Or if you're heading out to a summer BBQ, bring one along so that you know you have a healthy option available. Ok, let's take a look at what recipes I've selected for you!
1. BBQ Chicken Salad with "Fried" Onions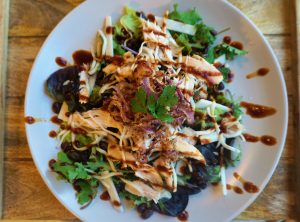 This salad though. It's made with shredded chicken breast, black beans, jicama, and mozzarella, with BBQ sauce as the dressing. What's jicama you might ask? It's a root vegetable that looks a lot like a ballooned potato, because it has a round shape, brown exterior, and white interior. Enjoy it raw- it adds a lot of crunch to your salad! Oh and I absolutely LOVE the faux "fried" onions on top. They're savory, gluten-free and guilt-free. Find the recipe here.
2. Greek Salad with Chicken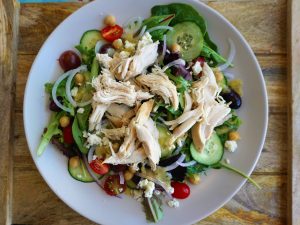 Ever heard of the Mediterranean diet? There's a reason that it's considered one of the healthiest diets around: it's all about good fats, plenty of vegetables, and lean protein. That's why Greek salads are one of my go-to's when we go out to eat. Bright, fresh tomatoes and cucumbers, salty olives, and crunchy red onions? It practically screams summer! But why waste your money going out when you can make the real deal at home? Check out the recipe here!
3. Seared Ahi Salad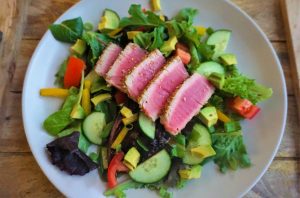 I still can't get over how pretty this salad is. The colors and textures just make me want to dive right in! And I love that it is so low-carb, making it one of my favorites when it's time to eat a little cleaner. It's always about balance my friends! Don't be afraid of searing your own ahi. Make sure that you have sushi-grade tuna, sear it over a med-high heat, and only keep it on for a couple of minutes on each side. It's so simple! Find the full recipe here.
4. Ten Minute Taco Salad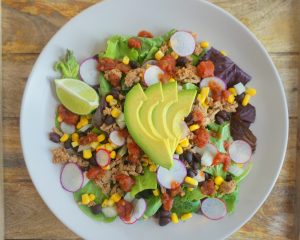 I think this is seriously my most popular salad, at least in our house. I swear, we probably make this salad once a week. That's because it is easy, fast, and so healthy for you! There's a lot of good protein, healthy fats, and fiber, not to mention antioxidants like lycopene. And the radishes provide great crunch! I never used to be a big fan of them, but now I put them on EVERYTHING. If you don't make any other salad on this list, at least give this one a try. You can't go wrong with a recipe that only takes 10 minutes! Check out the recipe here!
5. Watermelon Chicken Salad
And last but certainly not least, this one is the epitome of a summer salad. I mean seriously, this practically screams sunshine and pool time. Juicy, sweet watermelon comes together with fresh cucumber, crunchy red onion, and honey mustard or balsamic dressing. Bring this lovely dish with or without the chicken to your next BBQ and it's sure to be a hit! Find the recipe here.
So that's it! I hope you enjoyed this roundup of 5 Easy Summer Salad Recipes, and that you have some inspiration when it comes to your weekend get togethers. Let me know what you want to see on the next roundup in the comments below!
I hope that you enjoyed this one as much as I do! Comments, questions, concerns? Leave them in the comments below or contact directly at me@samanthaelaine.net.
Like it? Love it? Share it!