Ok, so I have to be honest. This dish is actually adapted from a recipe that my sister made for dinner one night. It was so damn good, I had to make my own version! And now I think braised pork chops are my new favorite way to eat them. In fact, this may be the only way I eat them for the rest of my life! I'm kidding….maybe? They're tender, juicy, and bursting with flavor, thanks to the tomato and white wine braise. What's not to love?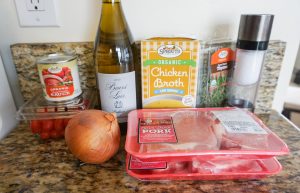 Start by gathering your ingredients. As I have previously mentioned, I try to buy organic whenever possible, dictated by availability and price. For the wine, I typically purchase a cheaper bottle than I would normally buy, only because I'm going to use it to cook with. And let's be realistic here; you can't taste the difference between cooked $20 wine and cooked $5 wine, am I right? Well maybe you can, but I sure don't see it!
Anyway, you'll want to start with prep, which shouldn't take very long. First, cut your grape tomatoes in half and set aside. Then, slice your onion in half from root to tip, and place the cut side down. Slicing perpendicular to the root, cut your onion into thin slices, as you can see in the picture. And last, cut off the ends of your brussels sprouts and quarter them. Set aside and preheat your oven to 350.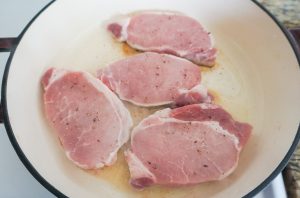 Now you'll want to sear your pork chops. I find it best to use a thick-bottomed pan, like cast iron or ceramic. It holds and distributes the heat well without burning your food. Season your pork chops with salt and pepper first.
Then, place your pan over medium high heat and add 2 tbsp canola oil. Get a good sear on each side of your pork chops, about 3-5 minutes per side. I did mine in two batches to make it easier.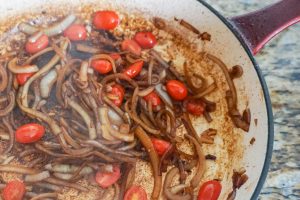 After you are done searing your chops, set them aside. They'll come back to play later. Add your sliced onions to the same pan, and cook for a few minutes until they start to soften and brown. Add your tomatoes, and cook an additional 5 minutes or so.
Next, you will deglaze your pan with the chardonnay. Add it in slowly, working a wooden spatula along the bottom of your pan to pull up any of the cooked on bits. This step will add a lot of flavor to your braising liquid. Then add in your chicken stock and tomato sauce, and bring everything to a simmer. Stir in a few sprigs of thyme.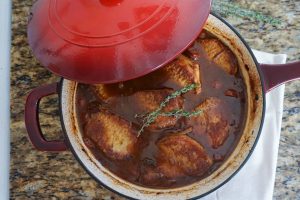 Now you can add your seared chops back into the braising liquid. The liquid should not quite fully submerge your chops. Cover and place in the oven, and let cook for 30-45 minutes.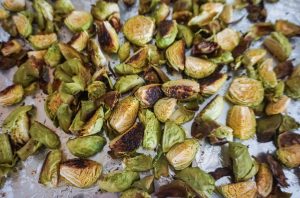 To cook your brussels sprouts, start by lining a baking sheet with foil and nonstick cooking spray. Spread them out and season with salt and pepper. Spray again and let cook in the same 350 degree oven for 25-30 min.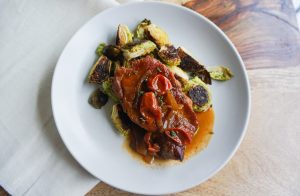 And that's it! You have successfully braised some pork chops, my friend. Serve with your roasted brussels, and top with some of the onions, tomato, and chardonnay sauce.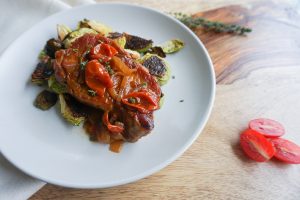 Enjoy!
I hope that you enjoyed this one as much as I do! Comments, questions, concerns? Leave them in the comments below or contact directly at me@samanthaelaine.net.
Like it? Love it? Share it!