It's almost here! Thanksgiving 2017, you're so close I can smell it. Oh and trust me, it smells AMAZING. My neighbors said they could smell dinner down the street! By now you should have seen some of my other recipes in this series, but what Thanksgiving meal is truly complete without a roasted bird? Try not to limit yourself to turkey here. If you don't have to cook for a large group, just roast a chicken! And this my friends, isn't just any chicken. Lemon, garlic, and herbs add subtle flavor, and it has a nice golden exterior. This is my Lemon Garlic Roast Chicken.
And when it comes to that golden exterior, do not forget to pat the bird dry. This helps the skin crisp up. Also, you have to really massage in the oil, salt, and pepper. Show her a little love; it goes a long way!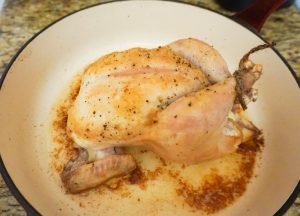 Want to try some different flavors? Maybe you would prefer rosemary or thyme instead of the parsley. No problem! You can really make this your own, but I've provided my favorite way to make it here. The lemon and the garlic are the stars, while the parsley adds a nice fresh flavor.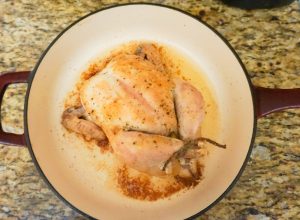 Do you know what is probably the best part about roasting a chicken instead of a turkey? It only takes about an hour. THAT'S IT! So quick! Get this baby in the oven, and then make your sides while it's going! Easy as pie (I'll get to that another day).
Ready for the full recipe? Check it out below! Now get cookin' good lookin'!
I hope you enjoyed this one as much as I do! Comments, questions, or concerns? Leave them in the comments below or contact directly at me@samanthaelaine.net.
Like it? Love it? Share it!