Hey there! Did you have a great weekend with your family, or even just catching up on some rest? You deserve it! Hopefully you were able to sneak in some grocery shopping and meal prep somewhere, because another week is about to begin my friends! If you didn't get a chance to plan your week, check out my latest menu AND grocery list here! The weather has yet to decide if it's fall yet, so I'm bringing you another summery recipe. Let's use up the last days we may have with the grill and make some Surf and Turf Kabobs!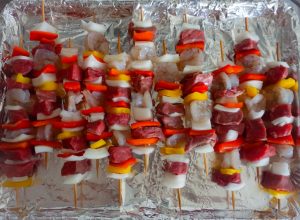 Surf and turf brings the best of two worlds home for me. On the one hand, I love steak. I mean, who doesn't? And for these kabobs, you want to use a nice, juicy cut that is at least 1 inch thick, so it doesn't dry out on the grill. I recommend a sirloin, but if you want to splurge on a New York or ribeye, by all means!
On the other hand, I have become incredibly fond of seafood. Shrimp is a very lean protein that provides key nutrients like selenium, B12, phosphorous, choline, copper, and iodine, among others. And since it is important to have a variety of proteins in your diet, why not have two in one dinner?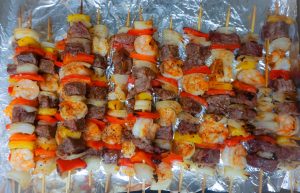 This dinner comes together really fast once you have done the prep work, which is mostly dicing vegetables and your steak. Make sure to soak your bamboo skewers for a little bit, which prevents them catching fire on the grill! And if you have metal skewers, well aren't you just the most prepared grill master ever!
Check out the full recipe and printable below! What else would you add to your kabobs? Let me know in the comments below!
I hope you enjoyed this one as much as I do! Comments, questions, concerns? Leave them in the comments below or contact directly at me@samanthaelaine.net.
Like it? Love it? Share it!