I really like the idea of going meatless one day a week. I'm not even sure that my fiance has realized that we do this, but he also doesn't seem to mind! I think that's because vegetarian does not mean that the meal isn't satisfying, and this dish is a perfect example of that. It's still incredibly hearty, and there's a good source of whole protein from the egg. It has so much flavor, you won't even miss the meat!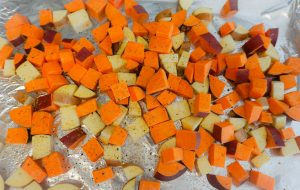 Garnet sweet potatoes (the orange ones) are a good source of potassium, vitamin C and vitamin A as beta-carotene. Plus they have more fiber than a white potato. But white potatoes have more iron and magnesium, so I included both in mine! We get all of the health benefits, and satisfy everyone's favorite-Zach loves white sweet potatoes and I love the garnets.
The nice thing about this recipe is that you can prepare it in advance. It's a good idea to cook your quinoa ahead of time; that can be a day before or an hour, it just depends on your schedule. You can also roast the sweet potatoes ahead, and even make the vinaigrette.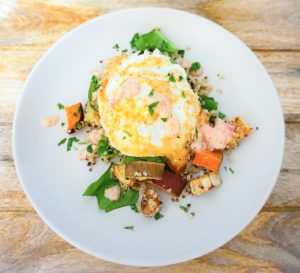 The only thing you need to do fresh is the fried egg, which doesn't have the same soft, creamy yolk if it has to be reheated. And there is a nice tangy taste from the vinaigrette, which helps to liven up the whole dish!
So there you have it, a vegetarian dish so hearty, you won't even realize that it doesn't have any meat. Try this one on your next "meatless monday"!
I hope you enjoyed this one as much as I do! Comments, questions, concerns? Leave them in the comments below or contact directly at me@samanthaelaine.net.
Like it? Love it? Share it!