My fiance loves pork chops, no matter how they're prepared. Me, well I'm a little more picky. It has to be done just right: juicy, never dry, and accompanied by something a little saucy. That's why this dish is perfect! It lets the flavor of the foods shine through on their own, and if you pair each bite of pork with a little tomato? Oh, it's good.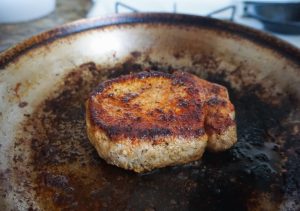 Simple is better sometimes, am I right? There's not even a lot of preparation with this one, and the whole thing should be over and done with in about 20-30 minutes.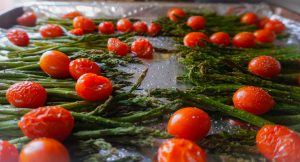 A couple of tips:
Trim the woody ends off your asparagus. Nobody wants to have to chew through those. If you want it to be a little easier to eat, try cutting your asparagus in half or thirds.
When I say that your tomatoes should be "blistered", I mean wrinkly, browning on some parts, and perhaps even bursting a little. It means they are juicy and roasted to perfection.
Make sure your pan is hot before you start searing your pork. That will ensure that it browns instead of turning grey.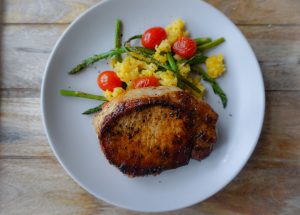 And share your pictures with me! I would love to see how you made this, or any dish for that matter, and how much you love it! Find me on Facebook or Instagram @thesamanthaelaine. Now get cooking! A dish this pretty deserves to be sitting on your table pretty soon!
I hope you enjoyed this one as much as I do! Comments, questions, concerns? Leave them in the comments below or contact directly at me@samanthaelaine.net.
Like it? Love it? Share it!