So I stumbled across the recipe for these Apricot Glazed Pork Loin Chops awhile back and I was like "WOW, I have to try that!" But I waited because I really wanted to use fresh apricots. I live in Southern California after all, so why not? There is an abundant variety of seasonal produce available, and something that is very important to me is using produce when it is in season.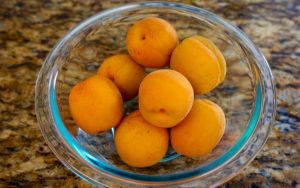 Whenever possible, I'm going to use fresh, seasonal produce. And if that isn't available, my next choice is frozen. It's picked at it's peak and flash frozen, preserving the nutrients. This is a much better choice than produce that's not in season: they pick it before it's ripe, and then ship it and ripen with ethylene gas.
Let's get back to the recipe though! Imagine warm, sweet apricot glaze, and then fresh, juicy roasted pork chops. Pair that with fresh, snappy, garlicky green beans, and we're talking about a real good dinner over here. The recipe originated from Food & Wine, and you can check out that recipe here. I've made a few modifications though.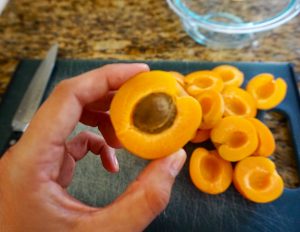 Let's begin with the apricots. You can do this in advance during your meal prep, but if you didn't, that's fine. Cut them in half, remove the pit, and then thinly slice. Set them aside.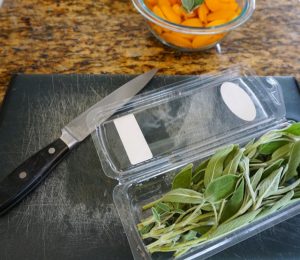 Then you're going to mince the shallot and the sage. Set aside separately. Trim the ends off the green beans. Combine with some freshly minced garlic and you're good to go.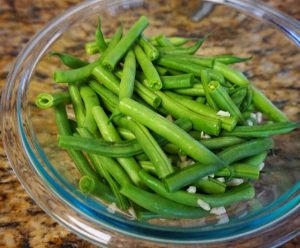 Ok, let's start cooking! In a medium saucepan, heat 1 tsp of canola oil over medium heat. Add the shallot, and cook for about 2 minutes, or until fragrant and browning. Add in the apricots, brown sugar, soy sauce, sage, wine, and 1/2 cup water. Bring to a boil, reduce to a simmer, and cook for about 25 minutes, stirring occasionally. When thick and shiny, remove from heat and let cool.
Pour half the glaze over the pork chops and let marinate in the refrigerator for at least an hour. Ideally, you're looking at about 4 hours here, but ain't nobody got time for that. Overnight would be even better.
Preheat the broiler. Line a baking sheet with foil and place pork chops on top. Broil the chops for about 7-8 minutes per side, or until just cooked through. Meanwhile, in a medium saute pan, heat additional tsp canola oil. Add the green beans and garlic to the pan, and saute for about 5-7 minutes. Add 1/4 cup water to the pan and bring to a boil. Place lid over the top and let steam about 2 minutes.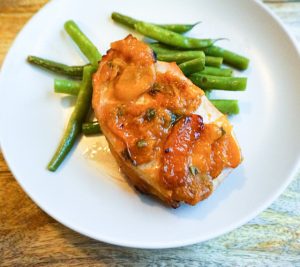 Serve pork chops with green beans and reserved half of the glaze. Voila. Enjoy!
I hope you enjoyed this one as much as I do! Questions or comments? Leave them below or contact me directly at me@samanthaelaine.net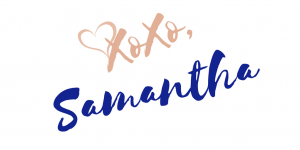 Like it? Love it? Share it!