So you may be thinking, what do nachos have to do with a bed and breakfast? But think again! The B&B here stands for Beef and Bean nachos, as in grass-fed ground beef and fiber-filled pinto beans! Pile those nutritious ingredients on top of bean chips, almond cheese, and tomatoes, all topped off with spinach, cilantro, and lime? My kind of nachos.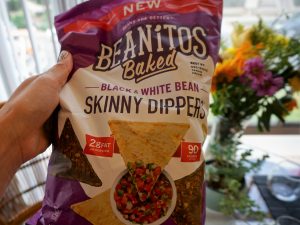 What are bean chips you might ask? Easy-they are made from beans! The kind we used was a combination of white and black beans, and is shown in the picture. I'm not here to promote or endorse any specific brand, so if there's one that you like better, go for it! These happened to be gluten-free and had a nutritional profile I was happy with.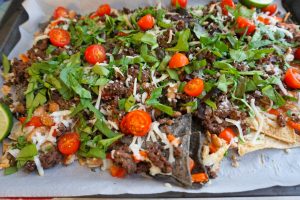 And then really, this dinner comes together in a pinch. Brown your beef and season it with cumin and paprika, or use your favorite taco seasoning. Then, pile all your toppings on to the chips! Let it bake in the oven for about 10 minutes  or until your cheese is nice and melty, and top it with the fresh ingredients. That's all folks! Serve with salsa, sour cream, or anything else you like and dig in!
I hope you enjoyed this one as much as I do! Comments, questions, concerns? Leave them in the comments below or contact directly at me@samanthaelaine.net.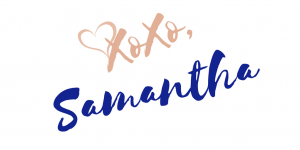 Like it? Love it? Share it!