Hey there! I hope that you've had a wonderful start to your week? Is it just me or does time feel like it's just FLYING by lately? I can't believe it! Great news is that I finally made a Facebook Page today to accompany my blog- find it here. I would love to see you interact with me on there, provide more feedback and get involved in conversation!
But to the important part of this post, your recipe of the day! And this one is our weekly vegan choice, a spicy sofritas buddha bowl. You know those amazing sofritas that chipotle introduced awhile back? Think along those lines, with a lot less sodium, and you get to add WHATEVER YOU LIKE to your bowl instead of feeling limited by their choices!
And some of you may think-vegan? What is she doing? And though I do not lead a vegan or vegetarian lifestyle, I respect the benefits of having a vegan meal every now and then. It dramatically cuts down on your saturated fat content, and when done right, typically has a good boost in the amount of veggies on your plate. So I'm all for it, you know, every now and then. But this girl's gotta have meat on a regular basis too.
How to make the sauce
Anyway, let's get started. This recipe could definitely benefit from some prep ahead of time. You could make the sofritas sauce before, or even the entire sofritas recipe to really save time day of.
You will want to start by roasting your poblano pepper. I literally did this over the flame from my stove, but you could also do it on the grill or in the oven under your broiler. It's really up to you.
Let it cool down for a minute, and then using a paring knife, scrape the skin off the outside of the pepper. You don't really want to eat those charred bits, they just added a ton of flavor. Then, cut the top off your pepper, and pull out the stem and seeds. Cut a line down the side of your pepper, and remove any seeds that may have been left behind. Quickly chop your pepper into pieces and add them to your blender.
Add the remaining sauce ingredients to your blender, along with water, and puree until smooth. If you like it spicier, you can add additional peppers and sauce from your canned chipotles in adobo.
Prep the rest of the recipe
Pat your drained tofu (and my pat, I sometimes mean PRESS) with paper towels to remove any excess moisture. Fry it in your pan with a little canola oil, crumbling as you go. I find that this works best with a wooden spoon. Remove tofu from heat and set aside. Add sofritas sauce into pan and let cook over medium heat for about 4 minutes. This adds depth and flavor to your sauce.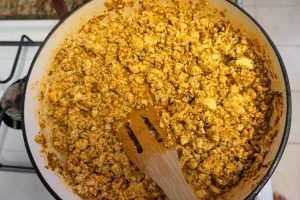 Add crumbled sofritas back into pan, along with 1/2 cup water.  Let cook for about 5 more minutes to incorporate the flavor of the sauce into the tofu.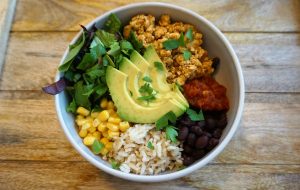 Assemble your bowls with anything you like! I added into the recipe black beans, corn, brown rice, salsa, avocado, and cilantro, but cheese would have been really nice, or even Greek yogurt or sour cream! The possibilities are endless.
Any feedback? I'd love to hear it! Comment below, or visit me on Instagram or Facebook!