When it starts to cool down outside, its time to heat things up in the kitchen. If you're anything like me, the start of fall means that my FAVORITE season is finally here! I can't wait to cuddle up with my family to a good movie while a warm, savory soup is bubbling away in the other room. And I love to make this Chicken Tortilla Soup when it's especially chilly outside, because it warms up the whole house. While the tortilla chips are crisping in the oven, the rest is slowly simmering away on the stove. Just thinking about it warms my soul.
Now, don't let the long ingredient list deter you. It's really not too bad! Most of the items should be things you already have on hand at home. I know that we keep our spice rack well-stocked, and chicken broth, Greek yogurt, limes, and avocados are pretty much staples on our grocery list. I do recommend cooking your chicken ahead of time, or even picking up some pre-cooked from the grocery store. That will save you TONS of time! Want to make yours at home? Try this easy Slow Cooker Roast Chicken for perfect, flavorful chicken.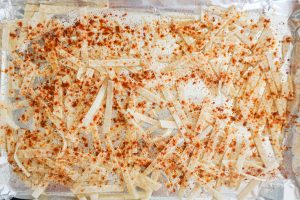 I love taking the time to make my own tortilla chips. They take on a different texture, and you can completely customize the flavor. I kept it simple in this recipe with just a little paprika, but you could go a little crazy and try chili powder and lime, or maybe classic salt? And, these chips come out even crunchier than store-bought. Cutting them small means that not only will they look adorable in your bowl, but they will actually fit on your spoon too! They will add a little crunch to each bite.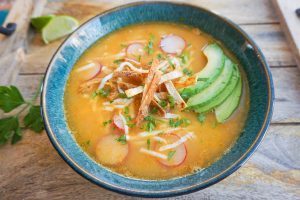 You can also up the flavor by adding a little heat. Now personally, I'm a wimp. I can't even handle a little jalapeno, hence the "optional" note next to it in the ingredients. But my husband loves spicy, and the hotter, the better in his opinion. So if you're more like Zach, then add the jalapeno, and even keep the seeds in if you're a daredevil! And I'm sure that means you always have a bottle of hot sauce in your fridge, so go to town.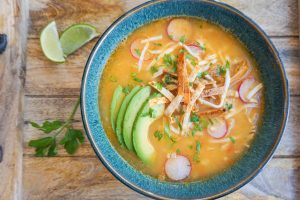 So there you have it. Delicious, FLAVORFUL, chicken tortilla soup that the whole family will love. And if you enjoy recipes like this, be sure to check out my Slow Cooker Chicken Posole too! It has just as much flavor, but comes together in your slow cooker for the ultimate easy dinner!
I hope that you enjoyed this one as much as I do! Comments, questions, concerns? Leave them in the comments below or contact directly at me@samanthaelaine.net.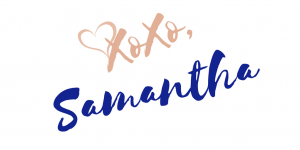 Like it? Love it? Share it!